GRIP
(redirected from grippingly)
Also found in:
Dictionary
,
Thesaurus
,
Medical
,
Idioms
.
grip
1. Tools any device that holds by friction, such as certain types of brake
2. TV, Cinema a worker in a camera crew or a stagehand who shifts sets and props, etc.
3. Engineering a small drainage channel cut above an excavation to conduct surface water away from the excavation
grip
[

grip

]

(ordnance)

One of a pair of wooden or plastic items designed to be attached by threaded fasteners to the two sides of the frame of a weapon, such as a revolver or bayonet; it is shaped to fit the hand and to provide a formed surface to hold the weapon.
grip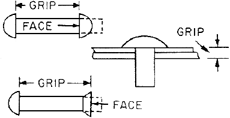 1. Of a mechanical fastener: the thickness of the material or parts which the fastener is designed to secure when assembled.
2. Of a rivet: the thickness of the plates or parts through which the rivet passes.
3. A channel that carries away rain water from a foundation, during its construction.
GRIP
Graph Reduction In Parallel.
Simon Peyton Jones's GRIP machine built at UCL, now at the University of Glasgow. It has many processors (
Motorola 68020
or other) on Futurebus with intelligent memory units.
GRIP
(Globally Resilient IP) Features built into Cisco's IOS router operating system in 2002 that eliminate packet loss during a router switchover. Such features include Stateful Switchover, which transfers the state of the original router to the standby router, while Nonstop Forwarding maintains packet flow during the switchover.