groin
Also found in:
Dictionary
,
Thesaurus
,
Medical
,
Wikipedia
.
groin,
in oceanography: see coast protectioncoast protection,
methods used to protect coastal lands from erosion. Beaches can exist only where a delicate dynamic equilibrium exists between the amount of sand supplied to the beach and the inevitable losses caused by wave erosion.
.....

Click the link for more information.

.
Groin
in architecture, that part of a vault that is formed by the intersection of two mutually perpendicular cylindrical surfaces. Groins are usually placed at the highest point of the apertures, above the abutment of the main vault. They form small vaults, whose radius is determined by the width of the apertures.
The Moscow Kremlin's Teremnoi Palace, built in 1635–36 by the architects A. Konstantinov, T. Sharutin, L. Ushakov, and B. Ogurtsov, has examples of groins in its Council Chamber.
groin
[

grȯin

]

(anatomy)

Depression between the abdomen and the thigh.

(architecture)

The projecting edge at the intersection of two vaults.

(civil engineering)

A barrier built out from a seashore or riverbank to protect the land from erosion and sand movements, among other functions. Also known as groyne; jetty; spur dike; wing dam.
groin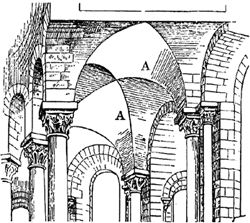 The ridge, edge, or curved line formed by the intersection of the surfaces of two intersecting vaults.
groyne
(esp US), groin

a wall or jetty built out from a riverbank or seashore to control erosion