groupware
Also found in:
Dictionary
,
Thesaurus
,
Medical
,
Financial
,
Wikipedia
.
groupware
[

′grüp'wer

]

(computer science)

Multiuser software that supports information sharing through digital media, such as electronic mail and messaging, electronic meeting systems and audio conferencing, group calendaring and scheduling, workflow process diagramming and analysis tools, and group document handling including group editing.
groupware
Software that supports multiple users working on related tasks in local and remote networks. Also called "collaborative software," groupware is an evolving concept that is more than just multiuser software which allows access to the same data. Groupware provides a mechanism that helps users coordinate and keep track of ongoing projects together.

Lotus Notes is often considered the father of groupware, because it was the first to popularize a multifunction groupware system and development environment.

A fundamental component of groupware is email, because email is used to notify team members, obtain responses and send alerts. Email messages include live links to databases, intranets and the Internet. Instant messaging (IM) is also widely used.

Groupware Is Comprehensive
Groupware also includes document sharing and document management, group calendaring and scheduling, group contact and task management, threaded discussions, text chat, data conferencing and audio and videoconferencing. Workflow, which allows messages and documents to be routed to the appropriate users, is often part of a groupware system.

From Simple to Complex
The Internet/intranet explosion focused attention on groupware because of the ease with which HTML pages could be created and shared. However, as documents became widely distributed throughout the enterprise, security and synchronization problems surfaced. Document management became a problem, and access control and replication became issues. Thus, what started out as a simple way to electronically publish information, wound up becoming a complex enterprise-wide system. See workflow, contextual collaboration, collaborative browsing and wares.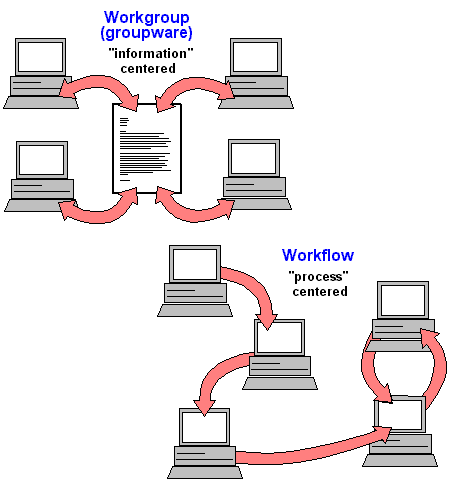 Groupware and Workflow
Groupware focuses on the information being processed and enabling users to share it. Workflow emphasizes the process, which acts as a container for the information. Groupware is "information centered." Workflow is "process centered." (Illustration courtesy of Delphi Consulting Group, Inc.)