design
(redirected from had designs on)
Also found in:
Dictionary
,
Thesaurus
,
Medical
,
Financial
.
design,
plan or arrangement of line, form, mass, color, and space in a pattern. A design may be created to serve a functional purpose as in architecturearchitecture,
the art of building in which human requirements and construction materials are related so as to furnish practical use as well as an aesthetic solution, thus differing from the pure utility of engineering construction.
.....

Click the link for more information.

and in industrial designs or else purely to provide aesthetic pleasure. The design may refer to preparatory stages for a work of art (see drawingdrawing,
art of the draftsman. In its broadest sense it includes every use of the delineated line and is thus basic to the arts of painting, architecture, sculpture, calligraphy, and geometry.
.....

Click the link for more information.

; cartooncartoon
[Ital., cartone=paper], either of two types of drawings: in the fine arts, a preliminary sketch for a more complete work; in journalism, a humorous or satirical drawing.
.....

Click the link for more information.

) or it may be extended to include the compositional elements in a finished work of art.

The Columbia Electronic Encyclopedia™ Copyright © 2013, Columbia University Press. Licensed from Columbia University Press. All rights reserved.

www.cc.columbia.edu/cu/cup/
Design
To compose a plan for a building; the architectural concept of a building as represented by plans, elevations, renderings, and other drawings; any visual concept of a constructed object, as of a work of art.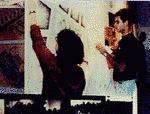 charrette
The intense effort to complete an academic architectural problem within a specified time; from the French word meaning the "cart" that was used to carry the student work at the École des Beaux-Arts to be judged. See also charrette process.
composition
The combining of various elements into proper position; to form an entity in terms of structure or organization.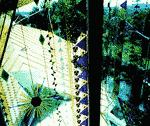 conception
A drawing of something that does not yet exist.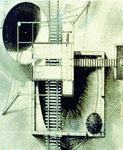 image
Any representation of form or features, especially one of the entire figure of a person; a statue, effigy, bust, relief, or intaglio.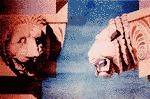 isometric drawing
A three-dimensional projection in which all planes are drawn parallel to the corresponding axes at true dimensions; all the horizontals are at 30 degrees from the normal horizontal axis; verticals are still parallel to the vertical axis.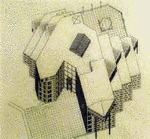 mock-up
A model of an object in the course of design, as in a cross section of a window or its parts; built to scale or full size, for studying construction details, judging its appearance, and/or testing performance.
model
A representation or reproduction, usually at a small scale: for studying or to illustrate construction.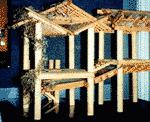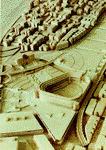 parti
Any scheme or concept for the design of a building that is represented by a diagram.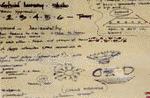 perspective drawing
A graphic representation of a project or portion thereof, as it would appear in three dimensions.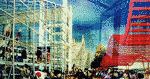 preliminary drawing
Drawings prepared during the early stages of the design phase of a project.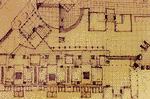 presentation drawing
Any of a set of design drawings made to articulate and communicate a design concept or proposal; such as for an exhibition, review, or publication.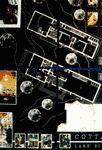 Illustrated Dictionary of Architecture Copyright © 2012, 2002, 1998 by The McGraw-Hill Companies, Inc. All rights reserved
The following article is from The Great Soviet Encyclopedia (1979). It might be outdated or ideologically biased.
Design
a term denoting a new kind of activity concerned with planning the world of objects.
Design came into being in the early 20th century as a reaction to the elemental, random formation of visual and functional properties of the material world. Design creates models for the rational construction of the world of objects; these models answer the needs of a complexly functioning contemporary society. Sometimes the word "design" is interpreted to describe only one area of design, namely, the planning of the aesthetic properties of industrial products. However, design can be used to solve a much wider range of sociotechnical problems, including industrial operations, consumer requirements, and the accommodation of human beings in a world of objects. Design is uniquely related to all traditional planning activities, since it solves difficulties that arise when novel object systems are introduced into the life of an individual or society as a whole, thereby often creating an imbalance in the world of objects.
The word "design" is also used to denote the results of a planning activity (for instance, in the expressions "design of an article" or "design of an automobile"). Moreover, this meaning is used not only in reference to contemporary practice; sometimes the word "design" is used to describe the morphology of the world of objects created by man at various stages of societal development. In this sense, one can speak of primitive design, of 18th-century design, and so on.
In various languages, besides the word "design" there are other terms describing the activities comprising design in its different aspects and manifestations—for instance, khudozhestvennoe konstruirovanie (artistic shaping) in Russian, Formgebung and Formgestaltung (fashioning, forming) in German, and wzornictwo przemystowe (industrial design) in Polish. However, in 1959 the first general assembly of ICSID (International Council of Societies for Industrial Design), of which the USSR is a member, adopted the term "industrial design" (abbreviated by professionals to "design") as a basic international term because its meaning was held to be more inclusive than that of other terms.
In the USSR design activities are conducted within an organizational system, consisting of special offices for artistic design. The All-Union Research Institute for Technical Aesthetics (including its branches) and an experimental studio affiliated with the Artists' Union of the USSR are centers of scientific research and experimental design. They provide systematic guidance, develop promising models and forecasting methods, establish quality criteria for industrial products, and study the history and theory of design. Design problems are systematically discussed in the journal Dekorativnoe iskusstvo SSSR (Decorative Art in the USSR) and in the bulletin Tekhnicheskaia estetika (Technical Aesthetics).
REFERENCES
Kantor, K. M. Krasota i pol'za. [Moscow, 1967.]
Glazychev, V. L. O dizaine. Moscow, 1970.
The series Problemy material'nokhudozhestvennoi kultury. Moscow, 1970–71.

A. S. MOSKAEVA and E. P. ZENKEVICH
The Great Soviet Encyclopedia, 3rd Edition (1970-1979). © 2010 The Gale Group, Inc. All rights reserved.
design
[

di′zīn

]

(science and technology)

The act of conceiving and planning the structure and parameter values of a system, device, process, or work of art.

McGraw-Hill Dictionary of Scientific & Technical Terms, 6E, Copyright © 2003 by The McGraw-Hill Companies, Inc.
design
1. To compose a plan for a building.
2. The architectural concept of a building as represented by plans, elevations, renderings, and other drawings.
3. Any visual concept of a man-made object, as of a work of art or a machine.
McGraw-Hill Dictionary of Architecture and Construction. Copyright © 2003 by McGraw-Hill Companies, Inc.
design
1. a plan, sketch, or preliminary drawing
2. the arrangement or pattern of elements or features of an artistic or decorative work
3. a finished artistic or decorative creation
4. the art of designing
Collins Discovery Encyclopedia, 1st edition © HarperCollins Publishers 2005
design
(process)

The approach that engineering (and some other) disciplines use to specify how to create or do something. A successful design must satisfies a (perhaps informal)

functional specification

(do what it was designed to do); conforms to the limitations of the target medium (it is possible to implement); meets implicit or explicit requirements on performance and resource usage (it is efficient enough).

A design may also have to satisfy restrictions on the design process itself, such as its length or cost, or the tools available for doing the design.

In the

software life-cycle

, design follows

requirements analysis

and is followed by implementation.

["Object-Oriented Analysis and Design with Applications", 2nd ed., Grady Booch].

This article is provided by FOLDOC - Free Online Dictionary of Computing (foldoc.org)