half-timbered
Also found in:
Dictionary
,
Thesaurus
,
Wikipedia
.
half-timbered
, half-timber

(of a building, wall, etc.) having an exposed timber framework filled with brick, stone, or plastered laths, as in Tudor architecture
half-timbered
[

′haf ¦tim·bərd

]

(building construction)

Pertaining to a timber frame building with brickwork, plaster, or wattle and daub filling the spaces between the timbers.
half-timbered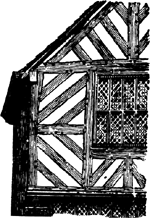 Descriptive of buildings of the 16th and 17th cent. which were built with strong timber foundations, supports, knees, and studs, and whose walls were filled in with plaster or masonry materials such as brick.