hanging stair
hanging stair
A stair supported by individual hanging steps projecting horizontally from a wall on one side, with corbels or brackets.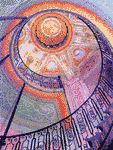 See also: Stair

Illustrated Dictionary of Architecture Copyright © 2012, 2002, 1998 by The McGraw-Hill Companies, Inc. All rights reserved
hanging stair, hanging step
1. A stone step cantilevered from the wall and free at the other end.
McGraw-Hill Dictionary of Architecture and Construction. Copyright © 2003 by McGraw-Hill Companies, Inc.