medusa
(redirected from head of Medusa)
Also found in:
Dictionary
,
Thesaurus
,
Medical
.
Medusa
(mədo͞o`sə)

, in Greek mythology, most famous of the three monstrous GorgonGorgon
, in Greek mythology, one of three monstrous sisters, Stheno, Euryale, and Medusa; daughters of Ceto and Phorcus. Their hair was a cluster of writhing snakes, and their faces were so hideous that all who saw them were turned to stone. Only Medusa was mortal.
.....

Click the link for more information.

sisters. She was once a beautiful woman, but she offended Athena, who changed her hair into snakes and made her face so hideous that all who looked at her were turned to stone. When Medusa was with child by Poseidon, Perseus killed her and presented her head to Athena. Chrysaor and Pegasus sprang from her blood when she died. Medusa's head retained its petrifying power even after her death. Because of this power, her image frequently appeared on Greek armor. In some myths Athena used the Medusa head on her aegis.
---
medusa,
in zoology, scientific name for the jellyfishjellyfish,
common name for the free-swimming stage (see polyp and medusa), of certain invertebrate animals of the phylum Cnidaria (the coelenterates). The body of a jellyfish is shaped like a bell or umbrella, with a clear, jellylike material filling most of the space between
.....

Click the link for more information.

, i.e., the free-swimming stage of various animals in the phylum CnidariaCnidaria
or Coelenterata
, phylum of invertebrate animals comprising the sea anemones, corals, jellyfish, and hydroids. Cnidarians are radially symmetrical (see symmetry, biological).
.....

Click the link for more information.

. See polyp and medusapolyp and medusa,
names for the two body forms, one nonmotile and one typically free swimming, found in the aquatic invertebrate phylum Cnidaria (the coelenterates). Some animals of this group are always polyps, some are always medusae, and some exhibit both a polyp and a medusa
.....

Click the link for more information.

.
Medusa
In Greek mythology, the mortal one of the three Gorgons, who had snakes for hair and whose head was cut off by Perseus to present to Athena as an ornament for her shield.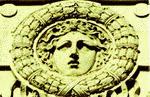 Medusa
(religion, spiritualism, and occult)

Medusa, asteroid 149 (the 149th asteroid to be discovered, on September 21, 1875), is approximately 26 kilometers in diameter and has an orbital period of 3.2 years. Medusa was named after the famous Greek woman whose visage could turn men into stone. J. Lee Lehman associates this asteroid with "volcanic" temperaments, although she adds that in small doses, it may add spice to one's character. Jacob Schwartz gives the astrological significance of Medusa as "the triumph of patriarchal forces over the matriarchal Gorgon Amazons of Lake Triton, or the slaying by Perseus, representing a naval triumph over the Gorgon rulers of the three main Azores islands, thus women of deadly abilities."
Sources:
Kowal, Charles T. Asteroids: Their Nature and Utilization. Chichester, West Sussex, UK: Ellis Horwood Limited, 1988.
Lehman, J. Lee. The Ultimate Asteroid Book. West Chester, PA: Whitford Press, 1988.
Room, Adrian. Dictionary of Astronomical Names. London: Routledge, 1988.
Schwartz, Jacob. Asteroid Name Encyclopedia. St. Paul, MN: Llewellyn Publications, 1995.
Medusa
in ancient Greek mythology, one of the three Gorgons, winged monsters whose glance turned living beings into stone. Perseus, the hero of the Argos tales, overcame Medusa with the aid of the gods and presented her severed head to Athena, who fastened it to her shield, the aegis.
medusa
[

mə′düs·ə

]

(invertebrate zoology)
Medusa
beheaded by Perseus. [Gk. Myth.: Hall, 206; Rom. Lit.: Metamorphoses]
---
Medusa
the only mortal Gorgon. [Gk. Myth.: Zimmerman, 161]
---
Medusa
her face was so hideous that any who saw it were turned to stone. [Gk. Myth.: Brewer Dictionary, 596]
---
Medusa
creature with fangs, snake-hair, and protruding tongue. [Gk. Myth.: Hall, 206]
medusa
2. one of the two forms in which a coelenterate exists. It has a jelly-like umbrella-shaped body, is free swimming, and produces gametes