headlight
Also found in:
Dictionary
,
Thesaurus
,
Medical
,
Idioms
,
Wikipedia
.
headlight
, headlamp

a powerful light, equipped with a reflector and attached to the front of a motor vehicle, locomotive, etc.

Collins Discovery Encyclopedia, 1st edition © HarperCollins Publishers 2005
The following article is from The Great Soviet Encyclopedia (1979). It might be outdated or ideologically biased.
Headlight
an electrical device on motor vehicles and other moving machines, used to illuminate, for example, roadways and work positions. The main components of a headlight are the optical element and a stamped housing.
Present-day headlights have a semireplaceable optical element that consists of a steel reflector coated with a thin layer of aluminum, a light source consisting of a single-filament or—more often—a double-filament incandescent bulb, and a lens made of ribbed glass. A high-wattage filament is located at the focal point of the reflector and produces a high beam that is aimed along the roadbed. A low-wattage filament is located above and to the left of the focal point and produces a low beam that is aimed downward and to the right. Such an asymmetric low beam, which is called a European low beam, reduces the danger of blinding the drivers of oncoming vehicles and improves illumination of the right side of the road. Iodine-vapor headlight bulbs are widely used. Such bulbs are filled with a rarefied gas containing an iodine vapor. As compared with conventional bulbs of the same wattage, iodine-vapor bulbs yield twice the roadway illumination and have a longer service life.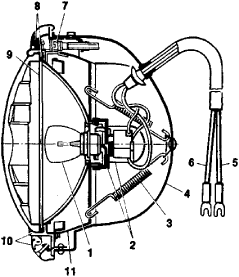 Every motor vehicle must have at least one pair of headlights. Both headlights must be located symmetrically relative to the longitudinal axis of the vehicle. Many vehicles are equipped with two additional fog lights, the lenses and reflectors of which aim the beams in the horizontal direction closer to the level of the roadway; in such lights, the high beam is cut off by a metallic shield. Special-purpose vehicles, such as fire engines and ambulances, may be equipped with swiveling spotlights that can be turned in various directions. Headlights are sometimes installed at the rear of a vehicle, for example, on tractor trucks. The rear headlights on tractor trucks are used to observe the trailers and other equipment.
REFERENCE
Il'in, N. M. Elektrooborudovanie avtomobilei, 4th ed. Moscow, 1975.
The Great Soviet Encyclopedia, 3rd Edition (1970-1979). © 2010 The Gale Group, Inc. All rights reserved.
headlight
[

′hed'līt

]

(electricity)

A lamp, usually fitted with a reflector and a special lens, that is mounted on the front of a locomotive or automotive vehicle to illuminate the road ahead.

McGraw-Hill Dictionary of Scientific & Technical Terms, 6E, Copyright © 2003 by The McGraw-Hill Companies, Inc.