heartwood
Also found in:
Dictionary
,
Thesaurus
,
Medical
,
Wikipedia
.
heartwood,
the central, woody core of a tree, no longer serving for the conduction of water and dissolved minerals; heartwood is usually denser and darker in color than the outer sapwoodsapwood,
relatively thin, youngest, outer part of the woody stem of a tree, the part that conducts water and dissolved materials. In the cross section of a tree, the sapwood is recognizable by its texture and color; it is softer and lighter than the inner heartwood.
.....

Click the link for more information.

. Before the synthesis of aniline dyes, the heartwood of several tropical trees (sold collectively under the commercial name brazilwood) was used to produce blue, purple, and red dyes. As a tree becomes older, the heartwood increases in diameter, whereas the sapwood remains about the same thickness. See woodwood,
botanically, the xylem tissue that forms the bulk of the stem of a woody plant. Xylem conducts sap upward from the roots to the leaves, stores food in the form of complex carbohydrates, and provides support; it is made up of various types of cells specialized for each of
.....

Click the link for more information.

.
heartwood
The center portion of a tree trunk that is no longer growing or carrying the sap; often harder and denser. See also:
Douglas fir
Heartwood
the older internal part of the wood of many timber trees. The heartwood is usually darker than the surrounding sapwood (cinnamon-brown in oak, yellow in barberry and acacia, reddish in yew, orange in alder, and almost black in ebony). As a result of the plugging of the vessels and tracheids with tyloses, resins, gums, essential oils, and other substances, the heartwood is almost impermeable to water and air and is resistant to rotting and fungal infestation.
heartwood
[

′härt'wu̇d

]

(botany)

Xylem of an angiosperm.
heartwood, duramen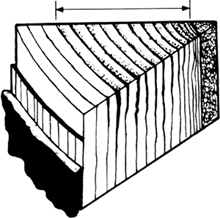 Wood at the core of an exogenous tree; normally darker and much more durable than sapwood.
heartwood
the central core of dark hard wood in tree trunks, consisting of nonfunctioning xylem tissue that has become blocked with resins, tannins, and oils