heat sink
Also found in:
Dictionary
,
Thesaurus
,
Acronyms
,
Wikipedia
.
heat sink
(hardware)

/heet sink/ (from "sink", electronics jargon for something which takes in current) A piece of thermally conductive metal attached to a

semiconductor

or other electronic device and designed to prevent it from overheating by conducting heat away from it and radiating it to the environment. Heat sinks often have fins to increase their surface area. They occasionally have fans attached. Heat sink compound can be smeared between the device and the heat sink to improve thermal conduction.
Heat sink
Where heat is dumped by an air conditioner or by a heat pump used in cooling mode; usually the outdoor air or ground.
heat sink
The medium or environment where heat is discharged after it has been removed from a heat source; usually the atmosphere or a body of water.
heat sink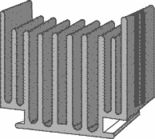 A piece of heavy metal or a plastic on which electrical components are mounted. Heat generated by these components is transferred to a heat sink by conduction and then dissipated into the surrounding air. A heat sink may have fins to increase its cooling area.
heat sink
A material that absorbs heat. Typically made of aluminum, heat sinks are widely used in amplifiers and other electronic devices that build up heat. Small heat sinks are the most economical method for cooling microprocessors and other chips. They are commonly found glued or clipped to the top or the side of the chip package. See heat pipe, CPU cooler and thermal grease.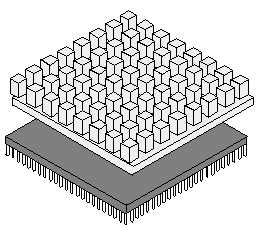 Heat Sink on a Chip
This type of heat sink is glued to the top of the chip, typically a CPU chip, which generates considerable heat.