helm roof
helm roof
[

′helm ¦rüf

]

(architecture)

A steeply pitched roof with four faces rising from gables to a point.
helm roof
Four faces rest diagonally between the gables and converge at the top.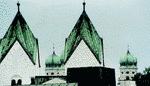 See also: Roof
helm roof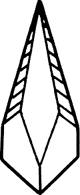 A roof having four faces, each of which is steeply pitched so that they form a spire; the four ridges rise to the point of the spire from a base of four gables.