heme
Also found in:
Dictionary
,
Thesaurus
,
Medical
,
Acronyms
,
Wikipedia
.
heme:
see coenzymecoenzyme
, any one of a group of relatively small organic molecules required for the catalytic function of certain enzymes. A coenzyme may either be attached by covalent bonds to a particular enzyme or exist freely in solution, but in either case it participates intimately in
.....

Click the link for more information.

.

The Columbia Electronic Encyclopedia™ Copyright © 2013, Columbia University Press. Licensed from Columbia University Press. All rights reserved.

www.cc.columbia.edu/cu/cup/
The following article is from The Great Soviet Encyclopedia (1979). It might be outdated or ideologically biased.
Heme
the nonprotein component (the so-called prosthetic group) and the coloring matter of hemoglobin.
Chemically, heme is a compound of protoporphyrin and divalent iron. In the vertebrate body heme is synthesized from simpler nitrogen compounds (glycine and succinate) and from ferritin, a reserve iron-protein complex present in the spleen, liver, and bone marrow. The heme isolated from the blood of various vertebrates always has the same structure: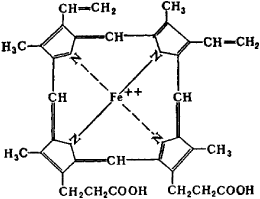 Free heme readily oxidizes in air to hematin, in which the iron atom is trivalent. Many years of research on the structure of heme were rewarded by the synthesis in 1929 by H. Fischer of hemin, the hydrochloride of heme.
The Great Soviet Encyclopedia, 3rd Edition (1970-1979). © 2010 The Gale Group, Inc. All rights reserved.
heme
[

hēm

]

(biochemistry)

C34H32O4N4Fe An iron-protoporphyrin complex associated with each polypeptide unit of hemoglobin.

McGraw-Hill Dictionary of Scientific & Technical Terms, 6E, Copyright © 2003 by The McGraw-Hill Companies, Inc.