herringbone
(redirected from herringbone stitches)
Also found in:
Dictionary
,
Thesaurus
.
herringbone
1.
a. a pattern used in textiles, brickwork, etc., consisting of two or more rows of short parallel strokes slanting in alternate directions to form a series of parallel Vs or zigzags
b. (as modifier): a herringbone jacket
2. Skiing a method of ascending a slope by walking with the skis pointing outwards and one's weight on the inside edges
Collins Discovery Encyclopedia, 1st edition © HarperCollins Publishers 2005
Herringbone
A way of assembling, in a diagonal zigzag fashion, brick or similar rectangular blocks for paving; also strips of wood or other materials having rectangular shapes for facing walls and ceilings or for use in parquetry.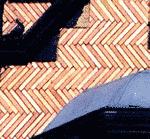 Illustrated Dictionary of Architecture Copyright © 2012, 2002, 1998 by The McGraw-Hill Companies, Inc. All rights reserved