hold
(redirected from hold forth)
Also found in:
Dictionary
,
Thesaurus
,
Legal
,
Financial
,
Idioms
.
hold
1
1. Wrestling a way of seizing one's opponent
2. Music a pause or fermata
3.
a. a tenure or holding, esp of land
b. (in combination): leasehold; freehold
---
hold
2
the space in a ship or aircraft for storing cargo
Collins Discovery Encyclopedia, 1st edition © HarperCollins Publishers 2005
The following article is from The Great Soviet Encyclopedia (1979). It might be outdated or ideologically biased.
Hold
an area in the hull of a ship, between the lower deck and the bottom or second bottom.
A hold may be used for cargo, ship's machinery, or supplies. The number of holds depends on the purpose and size of the ship. On passenger ships the length of the holds is determined by the conditions of unsinkability; for cargo ships, several classification societies regulate the number of holds depending on the length of the ship and establish a maximum length for holds. On refrigerator ships, the holds are lined on the inside with heat insulation. Cargo holds have ventilation equipment and devices for the detection and extinguishing of fires; they are usually loaded and unloaded through cargo hatches.
The Great Soviet Encyclopedia, 3rd Edition (1970-1979). © 2010 The Gale Group, Inc. All rights reserved.
hold
[

hōld

]

(aerospace engineering)

A scheduled or unscheduled pause in a testing or launching sequence or countdown of a missile or space vehicle.

(computer science)

To retain information in a computer storage device for further use after it has been initially utilized.

(electronics)

To maintain storage elements at equilibrium voltages in a charge storage tube by electron bombardment.

(engineering)

The interior of a ship or plane, especially the cargo compartment.

(industrial engineering)

A therblig, or basic operation, in time-and-motion study in which the hand or other body member maintains an object in a fixed position and location.

(mechanical engineering)

A machine motion that is halted by an operator or interlock until it is restarted.

McGraw-Hill Dictionary of Scientific & Technical Terms, 6E, Copyright © 2003 by The McGraw-Hill Companies, Inc.
hold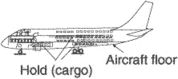 i
. To keep an aircraft within a specified space or location that is identified by visual or other means in accordance with instructions given by concerned air traffic agency.
ii
. To wait at an airfield at any time after arrival and before departure under instructions from ATC (air traffic control).
iii
. An above- or below-floor compartment in all-cargo aircraft.
iv
. A manual adjustment for the vertical or horizontal synchronization of a raster display.
v
. An underfloor cargo compartment.
vi
. To hold a parachute into the wind to reduce groundspeed.
vii
. To refrain from firing at a target, as in to hold fire.
viii
. To hold an aircraft off the ground when landing. Also referred to as a
hold off
.
ix
. To stop and maintain position as in "line up and hold" and "hold position." The former means that an aircraft is cleared to line up for takeoff but must obtain clearance, while the latter means that the aircraft should stop movement on the ground and maintain its existing position.
An Illustrated Dictionary of Aviation Copyright © 2005 by The McGraw-Hill Companies, Inc. All rights reserved