hopper
Also found in:
Dictionary
,
Thesaurus
,
Idioms
,
Wikipedia
.
hopper
1. a funnel-shaped chamber or reservoir from which solid materials can be discharged under gravity into a receptacle below, esp for feeding fuel to a furnace, loading a railway truck with grain, etc.
2. any of various long-legged hopping insects, esp the grasshopper, leaf hopper, and immature locust
3. an open-topped railway truck for bulk transport of loose minerals, etc., unloaded through doors on the underside
4. Computing a device formerly used for holding punched cards and feeding them to a card punch or card reader
hopper
[

′häp·ər

]

(engineering)

A funnel-shaped receptacle with an opening at the top for loading and a discharge opening at the bottom for bulk-delivering material such as grain or coal.
hopper
1. A funnel-shaped bin or chute; used to store loose construction materials, such as crushed stone or sand.
2.
One of two barriers on both sides of a
hopper light
to prevent airflow through the side openings at the ends of the inward-sloping pivoted
sash (ventilator, 2)
.
3. A water tank which releases its contents through a pipe at the bottom; esp. used with a water closet.
4. A water-closet bowl, esp. one that is funnel-shaped.
hopper
A tray, or chute, that accepts input to a mechanical device, such as a disk duplicator or printer. In the days of punch cards, millions of cards were numerically or alphabetically organized by placing them into the hopper of a card sorter, taking them out of all the stackers and putting them back into the hopper for the next card column.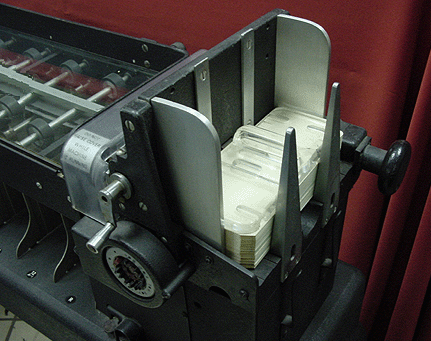 Sorter Hopper
In the 1940s and 1950s, millions of punch cards were placed into hoppers on IBM sorters such as this one. The hoppers were also fitted with two-foot extensions that held more cards. (Image courtesy of The Computer History Museum, www.computerhistory.org)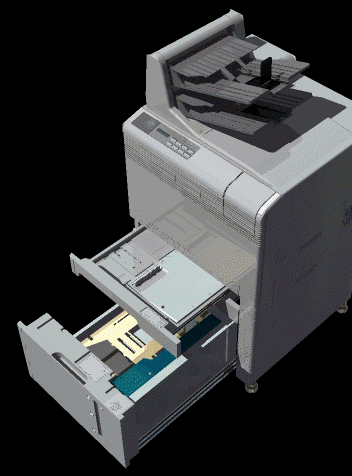 Paper Hoppers
This Dataproducts laser printer holds 250 sheets of paper in the top hopper and 2,000 in the bottom. (Image courtesy of Hitachi Koki Imaging Solutions, Inc.)