horizontal branch
Also found in:
Wikipedia
.
horizontal branch
A horizontal strip on the Hertzsprung–Russell diagram of a globular cluster, to the left of the red-giant branch. It consists of low-mass stars that have lost mass during the red-giant phase; they all have absolute magnitudes of about the same value. Where the instability strip associated with pulsating variables crosses the horizontal branch, the stars are RR Lyrae stars; in a conventional H-R diagram of nonvariable stars, this appears as a gap in the horizontal branch.
horizontal branch
[

'här·ə′zänt·əl ′branch

]

(astronomy)

A region in the Hertzsprung-Russell diagram of a typical globular cluster that extends in the blue direction from the giant branch at an absolute bolometric magnitude of 0.3 and consists of stars that are burning helium in their cores and hydrogen in their surrounding envelopes.
horizontal branch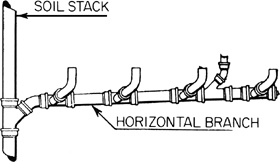 A
branch drain
with a horizontal extension from a waste, soil, or vent stack, or from a building drain, which receives the discharge from a single fixture or a group of fixtures and conducts it to the soil or waste stack or to the building drain.