hot-water heating system
Hot-water heating system
A heating system for a building in which the heat-conveying medium is hot water. A hot-water heating system consists essentially of water-heating or -cooling means and of heat-emitting means such as radiators, convectors, baseboard radiators, or panel coils. A piping system connects the heat source to the various heat-emitting units and includes a method of establishing circulation of the water or other medium and an expansion tank to hold the excess volume of water as it is heated and expands.
In a one-pipe system, radiation units are bypassed around a one-pipe loop. This type of system should only be used in small installations. In a two-pipe system (see illustration), radiation units are connected to separate flow and return mains, which may run in parallel or preferably on a reverse return loop, with no limit on the size of the system. In either type of system, circulation may be provided by gravity or pump.
One outstanding advantage of hot-water systems is the ability to vary the water temperature according to requirements imposed by outdoor weather conditions, with consequent savings in fuel. Radiation units may be above or below water heaters, and piping may run in any direction as long as air is eliminated. Hot water is admirably adapted to extensive central heating where high temperatures and high pressures are used and also to low-temperature panel-heating and -cooling systems.
McGraw-Hill Concise Encyclopedia of Engineering. © 2002 by The McGraw-Hill Companies, Inc.
hot-water heating system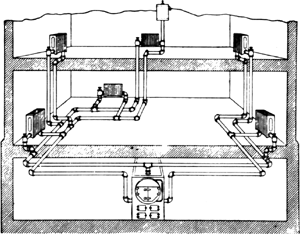 A heating system in which water having supply temperatures lower than 250°F (121°C) is used as a medium to convey heat from a central boiler, through a piping system, to suitable heat-distributing means.
McGraw-Hill Dictionary of Architecture and Construction. Copyright © 2003 by McGraw-Hill Companies, Inc.