HT
Also found in:
Dictionary
,
Thesaurus
,
Medical
,
Financial
,
Acronyms
,
Wikipedia
.
home theater
An audio/video entertainment center that has a large-screen TV and hi-fi system with three speakers in the front (left, right and center) and left and right speakers in the rear. Starting in the early 1990s, video inputs were added to stereo receivers, turning them into audio/video (A/V) receivers. Today, almost all home entertainment hardware vendors make A/V equipment for both listening and viewing (see A/V receiver).

Audio - Equally Important
A good sound system is important in a home theater setup. Realistic high-fidelity greatly enhances movie watching, and in many home theaters, the audio is the more elaborate and costly part of the system. See home theater in a box, soundbar, digital media server, videophile and audiophile.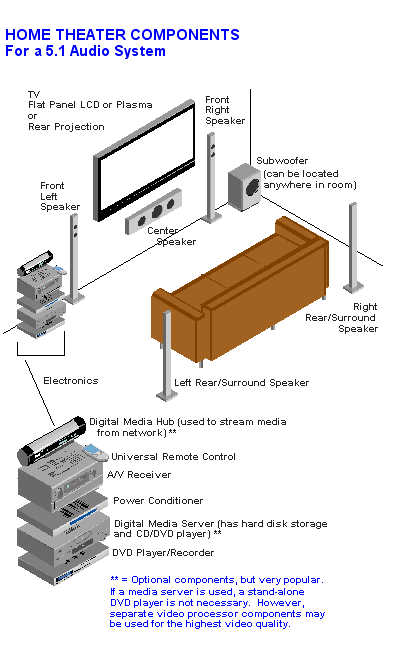 Home Theater Components
This is a typical 5.1 home theater (see home theater speakers). Except for the subwoofer, which is always on the floor, speakers range from tiny, wall-mounted units to floor models containing several drivers.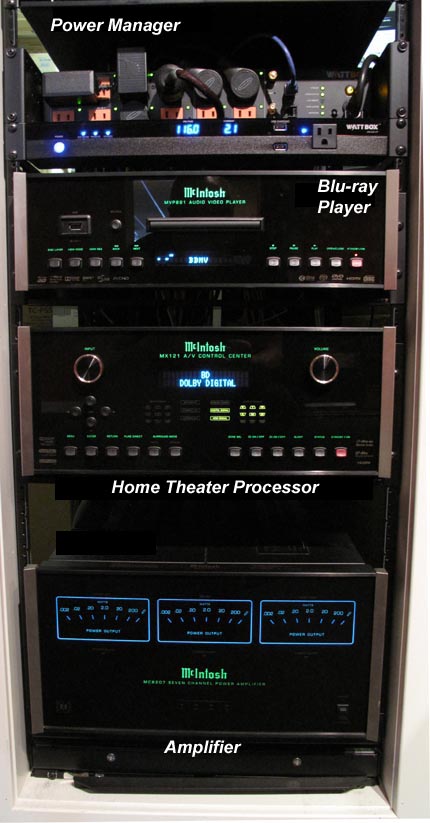 Home Theater Control
Anyone would be happy to have these high-end McIntosh units in their home theater. The processor is the control hub for selecting video source, decoding surround sound and streaming music from the home network or Internet. (Image courtesy of Audio Video Synergy, Clinton, NJ, www.audiovideosynergy.com)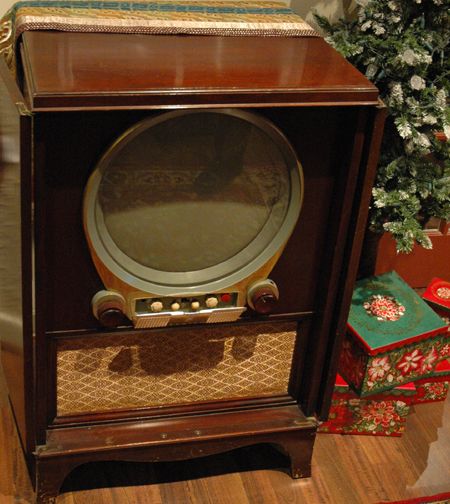 Big Screen Home Theater!
This Zenith TV was just as exciting in 1951 as the LCDs and plasmas are today. Screen sizes jumped from 10" and 12" to the huge 16" screen you see here. Monochrome, of course. (Equipment courtesy of World Wide Stereo, www.wwstereo.com)
---
HyperThreading
(1) A high-performance computing architecture that simulates some degree of overlap in executing two or more independent sets of instructions. See Hyper-Threading.

(2) (Hyper-Threading) A feature of certain Intel chips that makes one physical CPU appear as two logical CPUs. It uses additional registers to overlap two instruction streams in order to achieve an approximate 30% gain in performance. Multithreaded applications take advantage of the Hyper-Threaded hardware as they would on any dual-processor system; however, the performance gain cannot equal that of true dual-processor CPUs or a CPU with multiple cores.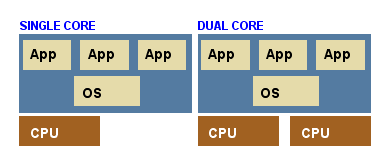 Hyper-Threading vs. Standard Modes
Applications must be multithreaded in order to take advantage of Hyper-Threading whether in single-core or dual-core machines.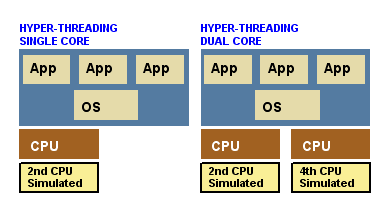 Hyper-Threading vs. Standard Modes
Applications must be multithreaded in order to take advantage of Hyper-Threading whether in single-core or dual-core machines.
---
HyperTransport
A high-speed interconnection architecture between integrated circuits, introduced in 2001. Code-named Lightning Data Transport and developed by AMD and others, the HyperTransport I/O Link Specification defines a protocol and electrical interface between the CPU, memory and peripheral devices.

Since its introduction, HyperTransport's maximum aggregate bandwidth of 32-bit links progressed from 12.8 to 41.6 Gbytes/sec. Version 3.0 also added dynamic link splitting under software control. Called "Un-Ganging," it enables a single unidirectional link to be split into two; each at half the original bit width. HyperTransport (HT) was designed to be fully compatible with legacy PCI (running at 33 or 66 MHz) plus PCI Express and PCI-X technologies. For more information, visit the HyperTransport Consortium at www.hypertransport.org.

HYPERTRANSPORT VERSION               HT 1.x   HT 2.0   HT 3.0Feature        (2001)   (2004)   (2006)

 Clock speed    800 MHz  1.4 GHz  2.6 GHz

 Bandwidth
  (GB/sec)       12.8     22.4     41.6

 Hot pluggable   No       No       Yes

 Un-Ganging      No       No       Yes