composite
(redirected from hybrid composites)
Also found in:
Dictionary
,
Thesaurus
,
Medical
.
composite,
alternate common name for Asteraceae or Compositae, the asteraster
[Gr.,=star], common name for the Asteraceae (Compositae), the aster family, in North America, name for plants of the genus Aster, sometimes called wild asters, and for a related plant more correctly called China aster (Callistephus chinensis
.....

Click the link for more information.

family.
composite
[

kəm′päz·ət

]

(engineering acoustics)

A re-recording consisting of at least two elements.

(materials)

A material that results when two or more materials, each having its own, usually different characteristics, are combined, giving useful properties for specific applications. Also known as composite material.
composite
A combination of conventional materials such as gypsum with reinforcement fibers such as carbon or glass so as to provide the material with greater strength.
composite (material)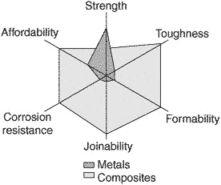 Composites are made up of two or more distinct materials that when combined are better (i.e., stronger, tougher, and/or more durable) than each would be separately. Unlike alloys, composite materials are anisotropic and use fiber or whiskers in a bonding matrix. Most common composites used in aircraft are carbon composites and superplastics, which are lighter, cheaper, stronger, and less prone to corrosion.
composite
1. Maths capable of being factorized or decomposed
2. of, relating to, or belonging to the plant family Asteraceae
3. denoting or relating to one of the five classical orders of architecture: characterized by a combination of the Ionic and Corinthian styles
4. any plant of the family Asteraceae (formerly Compositae), typically having flower heads composed of ray flowers (e.g. dandelion), disc flowers (e.g. thistle), or both (e.g. daisy)