iOS 7
iOS 7
(Apple's mobile operating system: Version 7) Introduced in September 2013, iOS 7 delivered the most dramatic change in Apple's touchscreen user interface since the first iPhone in 2007. Coinciding with the introduction of the iPhone 5s and 5c, iOS 7 featured new typography and a flatter look. Although Apple's built-in apps function much like previous ones, their appearance is very different.

New features include a revamped Safari browser, smoother app switching and closing, enhanced camera and photo album functions and more Siri integration (a male voice option was also added). AirDrop lets you share photos via Wi-Fi with nearby Apple users, and the Pandora-like iTunes Radio is included. Users can phone other Apple users free over Wi-Fi via the new FaceTime Audio VoIP service.

iOS 7 Needs 3GB for the Installation
Also available for the iPhone 4/4s, iPad 2 and up and the 5G iPod touch, iOS 7 requires 3GB of empty storage to install, but after installation, it is not much bigger than iOS 6. For iPhone hardware changes, see iPhone 5s and iPhone 5c. For iOS version history, see iOS versions.




The Flat Look
The shadows were removed from the icons, and everything has a flatter look. The typography is finer and lighter, but so light in fact that support reps recommend users switch to a dark background to see the white text.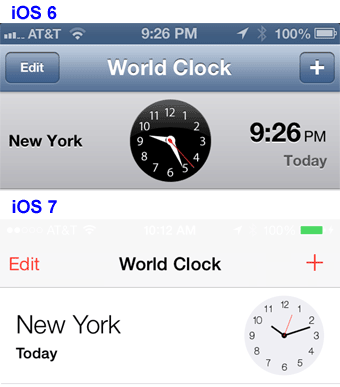 Buttons Were Turned Into Text
Sculpted and shadowed buttons on Apple apps were replaced with plain text. To match this new theme, developers have to reprogram all their apps.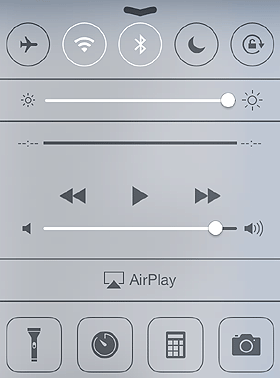 Always-Available Control Panel
Swiping up from the bottom no matter where you are retrieves controls for music, communications modes, brightness, flashlight, clock, calculator and camera.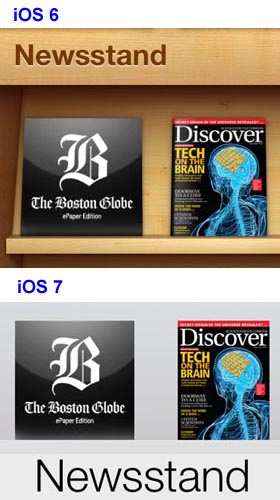 Good Bye Nostalgia
Gone is the old-fashioned look of wood-paneled bookshelves. See skeuomorph.
Copyright © 1981-2019 by The Computer Language Company Inc. All Rights reserved. THIS DEFINITION IS FOR PERSONAL USE ONLY. All other reproduction is strictly prohibited without permission from the publisher.