iPad Pro
Also found in:
Dictionary
.
Related to iPad Pro:
iPhone 7
,
iPad Air 2
iPad Pro
Apple's most advanced tablet family. Introduced in 2015 with a 12.9" Retina Display screen and up to 128GB of storage. The Pro's four speakers boosted volume significantly over previous iPads.

In 2016, a smaller 9.7" Pro featured a True Tone screen that adjusts automatically to the ambient light. Live Photos was also added, and storage was increased to 256GB for both models. iPad Pros are considerably faster than previous iPads rivaling Apple's MacBook laptops. See Apple Pencil, Live Photos, iPad and iOS versions.


iPad Pro Models           Live Photos                      True Tone   |(Year)  Resolution  Pounds  |    |  CPU12.9"
 (2015)  2732x2048   1.57    No   No  A9x
 (2017)  2732x2048   1.49   Yes  Yes  A10x

 10.5"
 (2017)  2732x2048   1.03   Yes  Yes  A10x

 9.7"
 (2016)  2048x1536    .96   Yes  Yes  A9x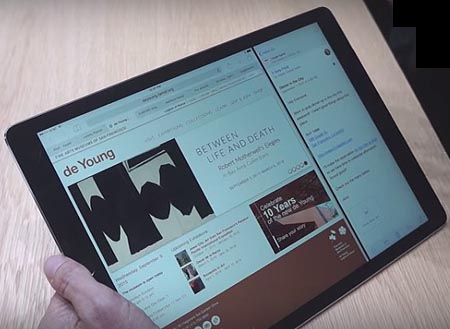 The Split Screen iPad Pro
The large Pro tablet debuted with iOS 9, which supports viewing two apps on screen for the first time. (Image courtesy of PCMag.com, www.pcmag.com)