iPod touch
(redirected from iPod touch 4G)
iPod touch
The only current iPod model from Apple, which is essentially an iPhone without cellular service. Introduced in 2007, the first iPod touch came with flash storage up to 32GB, increasing to 256GB in subsequent versions. The touch broke from the illustrious click wheel that helped make iPods successful and replaced it with a touchscreen interface like the iPhone. In 2008, a speaker was added. See iPod models, iPod and iPhone .

An iPhone Without the Phone
In 2008, Version 2.0 of the OS turned the iPod touch into a mobile computer just like the iPhone (see Apple App Store). Except for cellular service, almost everything people do on an iPhone can be done on the touch. However, the screen is only 4" compared with 4.7" on the smallest iPhone. Data access is via Wi-Fi or cabled to a computer.

Current 7th Generation (2019)
The latest iPod touch has the same cameras (720p and 1080p) and Wi-Fi (802.11ac) as the 6G. However, the 7G touch is faster with Apple's A10 Fusion chip versus the A8 and twice the RAM (2GB). The 7G also supports the latest iOS version.

A More Powerful 6G (2015)
The 6G touch featured Apple's music service (see Apple Music), new colors, an enhanced camera, Bluetooth 4.1, the same A8 chip as the iPhone 6 and more RAM. Boosting speed to roughly 85% of the iPhone 6, the 6G was better for gaming and graphics. See iPod models and Siri.

5G touch - Like the iPhone 5 (2012)
The 5G touch bumped the screen from 3.5" to a 4" Retina Display like the iPhone 5. It also included an improved camera and higher resolution (from 720 to 1080 lines). Siri was added.

Dual Cameras in the 4G (2010)
The 4th-generation touch made a big splash by adding front and rear cameras for stills, HD video recording and FaceTime. See iPhone 4.

1G, 2G, 3G (2007, 2008, 2009)
The first models were similar to the iPhones of the era with small, low-resolution screens (3.5", 320 lines). During this time, the iPhone was making its first huge splash in the market.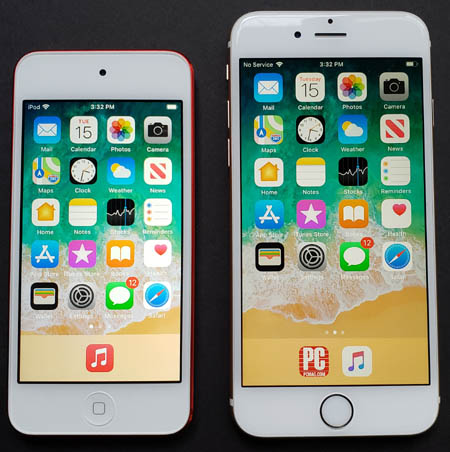 An iPhone Without the Phone
The iPod touch (left) does everything the iPhone (right) does except make cellphone calls. Except for the smartwatch, the 4" screen on the touch is Apple's smallest display.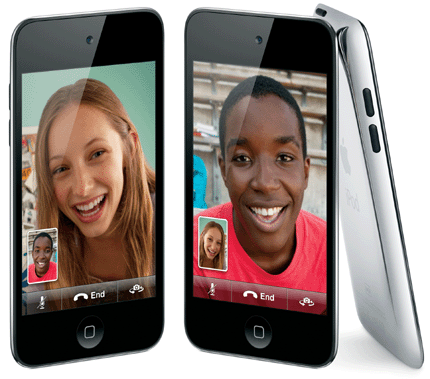 Phone Calls No - Video Calls Yes
Starting with the 4G touch in 2010, FaceTime video calling was added. (Image courtesy of Apple Inc.)
Copyright © 1981-2019 by The Computer Language Company Inc. All Rights reserved. THIS DEFINITION IS FOR PERSONAL USE ONLY. All other reproduction is strictly prohibited without permission from the publisher.