track
(redirected from in tracks)
Also found in:
Dictionary
,
Thesaurus
,
Medical
,
Legal
,
Idioms
.
track
1. a rail or pair of parallel rails on which a vehicle, such as a locomotive, runs, esp the rails together with the sleepers, ballast, etc., on a railway
2. an endless jointed metal band driven by the wheels of a vehicle such as a tank or tractor to enable it to move across rough or muddy ground
3. Physics the path of a particle of ionizing radiation as observed in a cloud chamber, bubble chamber, or photographic emulsion
4.
a. a course for running or racing
b. (as modifier): track events
5.
US and Canadian
a. sports performed on a track
b. track and field events as a whole
6. a path on a magnetic recording medium, esp magnetic tape, on which information, such as music or speech, from a single input channel is recorded
7. any of a number of separate sections in the recording on a record, CD, or cassette
8. a metal path that makes the interconnections on an integrated circuit
9. the distance between the points of contact with the ground of a pair of wheels, such as the front wheels of a motor vehicle or the paired wheels of an aircraft undercarriage
10. a hypothetical trace made on the surface of the earth by a point directly below an aircraft in flight
Collins Discovery Encyclopedia, 1st edition © HarperCollins Publishers 2005
The following article is from The Great Soviet Encyclopedia (1979). It might be outdated or ideologically biased.
Track
a sports facility for bicycle and motorcycle training and racing. A track is a bounded path with a hard surface of concrete, wood, or asphalt. It may consist of two straight sections connected by inclined semicircular curves, curves with varying centers, parabolic curves, or other higher-degree curve; some tracks are elliptical and without straight sections. The path is banked on the inside, and on the outside it has a barrier separating it from the stands.
There are both outdoor and indoor tracks. Soviet tracks are distinguished according to length as sprinterskii ("sprinter length"), polustaerskii ("semi-long-distance"), staerskii ("longdistance"), and universal'nyi ("universal"); another category is the motovelodrom (stadium for motorbike races). The length of the track may vary from 250 m or less to 500 m, and the width from 6 m to 8 m; combination motorbike and bicycle tracks range from 500 m to 666.7 m in length and 8 m to 10 m or more in width. Motorcycle tracks measure at least 2.5 km long. The angle of inclination of the curves varies from 20° to 44°.
Most modern bicycle tracks are indoor structures and have wooden surfaces. Asphalt is used as a rule for outdoor combination tracks.
The best-known tracks in the USSR are found in Moscow, Tula, Tallinn, and Tbilisi. The best-known tracks abroad are in Amsterdam, Hanover, Rome, Milan, Paris, San Sebastian, Brno, Warsaw, and Leipzig. Olympic tracks are located near Tokyo and in Mexico City, Munich, Montreal, and Moscow.
The Great Soviet Encyclopedia, 3rd Edition (1970-1979). © 2010 The Gale Group, Inc. All rights reserved.
track
[

trak

]

(aerospace engineering)

The actual line of movement of an aircraft or a rocket over the surface of the earth; it is the projection of the history of the flight path on the surface. Also known as flight track.

(computer science)

The recording path on a rotating surface.

(design engineering)

As applied to a pattern of setting diamonds in a bit crown, an arrangement of diamonds in concentric circular rows in the bit crown, with the diamonds in a specific row following in the track cut by a preceding diamond.

(electronics)

A path for recording one channel of information on a magnetic tape, drum, or other magnetic recording medium; the location of the track is determined by the recording equipment rather than by the medium.

The trace of a moving target on a plan-position-indicator radar screen or an equivalent plot.

(engineering)

The groove cut in a rock by a diamond inset in the crown of a bit.

A pair of parallel metal rails for a railway, railroad, tramway, or for any wheeled vehicle.

(mechanical engineering)

The slide or rack on which a diamond-drill swivel head can be moved to positions above and clear of the collar of a borehole.

A crawler mechanism for earth-moving equipment. Also known as crawler track.

(navigation)

To follow the movements of an object by keeping the reticle of an optical system or a radar beam on the object, by plotting its bearing and distance at frequent intervals, or by a combination of the two.

To navigate by following the movements of a craft without regard for future positions; this is used when frequent changes of an unanticipated amount are expected in course or speed or both.

A recommended route on a nautical chart, such as a North Atlantic Track.

(nucleonics)

The visible path of an ionizing particle in a particle detector, such as a cloud chamber, bubble chamber, spark chamber, or nuclear photographic emulsion.

McGraw-Hill Dictionary of Scientific & Technical Terms, 6E, Copyright © 2003 by The McGraw-Hill Companies, Inc.
track
A U-shaped member, attached to the floor and/or ceiling; used to receive metal studs for a partition, or to guide a sliding partition, door, curtain, etc.
McGraw-Hill Dictionary of Architecture and Construction. Copyright © 2003 by McGraw-Hill Companies, Inc.
track

i
. The projection on the earth's surface of the path of an aircraft, the direction of which path at any point is usually expressed in degrees from North (true, magnetic or grid) (ICAO). It is indicated by a line marked on the master flight chart with two arrows or another agreed-upon designator.
ii
. To display or record the successive positions of a moving object.
iii
. To lock onto a point of radiation and obtain guidance from there.
iv
. A series of related contacts displayed on a plotting board.
v
. The path followed by a tip of a propeller or rotor blade as it rotates.
vi
. The distance measured as a straight line between the outer points of contact of the star-board and the port main wheels. In a bogie-wheel configuration, the distance between the geometric centers of the two main bogies. Similarly, if there are outriggers or skids, then the center of their contacts will constitute a track.
vii
. To lock onto a source of radiation and obtain guidance from that same source. See
semiactive homing guidance
.
viii
. To follow a desired track.
ix
. To observe or plot the path of something moving, such as an aircraft or a rocket, by one means or another, such as by telescope or radar. It is said of persons or of the electronic equipment, that the observer, or the radar, tracked the aircraft.
An Illustrated Dictionary of Aviation Copyright © 2005 by The McGraw-Hill Companies, Inc. All rights reserved
track
(storage)

The part of a

disk

which passes under one read/write head while the head is stationary. The number of tracks on a disk surface therefore corresponds to the number of different radial positions of the head(s). The collection of all tracks on all surfaces at a given radial position is known a

cylinder

and each track is divided into sectors.

This article is provided by FOLDOC - Free Online Dictionary of Computing (foldoc.org)
track
(1) A single song or musical composition on a CD or as a download. See online music store.

(2) The metal interconnecting pathways on a chip that tie the transistors, resistors and capacitors together. There can be eight or more layers of tracks on a chip (integrated circuit). See MOSFET.

(2) The storage channel on a disk or tape. On magnetic disks (hard, floppy, Zip, etc.), tracks are concentric circles. CD and DVD tracks have one continuous, spiral-shaped channel starting near the center and moving outward. On magnetic tapes, tracks are parallel lines along the length of the tape. Helical scan tapes use diagonal lines (see helical scan).

On magnetic devices, bits are recorded as reversals of polarity in the magnetic surface. On optical media, the bits are recorded either as physical pits under a clear, protective layer or as changes in the reflectivity of the material. See magnetic disk and optical disc.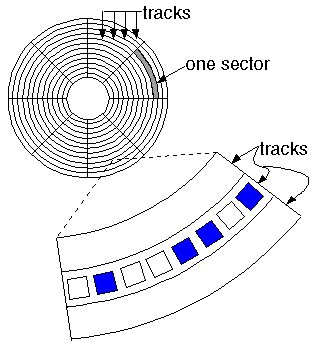 Tracks and Sectors
On disk, tracks are concentric circles. On tape, they are generally parallel with the length, although helical scan tracks run diagonal.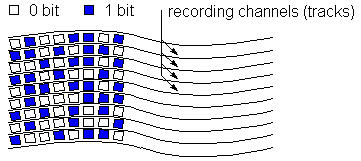 Tracks and Sectors
On disk, tracks are concentric circles. On tape, they are generally parallel with the length, although helical scan tracks run diagonal.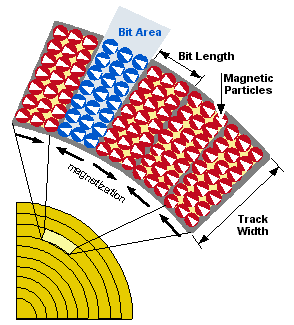 Track Width
The width of a track is wider than the bit length. At the beginning of the 21st century, the state-of-the-art was more than 30,000 tracks per inch (tpi).
Copyright © 1981-2019 by The Computer Language Company Inc. All Rights reserved. THIS DEFINITION IS FOR PERSONAL USE ONLY. All other reproduction is strictly prohibited without permission from the publisher.