Indigo
Also found in:
Dictionary
,
Thesaurus
,
Medical
,
Acronyms
,
Idioms
,
Wikipedia
.
indigo
[Span.; from Lat.,=Indian], important blue dyestuff used in printing inks and for vat dyeing of cotton (see dyedye,
any substance, natural or synthetic, used to color various materials, especially textiles, leather, and food. Natural dyes are so called because they are obtained from plants (e.g., alizarin, catechu, indigo, and logwood), from animals (e.g.
.....

Click the link for more information.

). It was anciently produced in India and was known in Egypt, probably c.1600 B.C.; mummies of the XVIII dynasty have been discovered wrapped in indigo-dyed cloth. Indigo is obtained from leguminous plants of the genus Indigofera, chiefly from the Asian species Indigofera tinctoria, but also from several other species. The plants contain a colorless, soluble glucoside called indican. When the macerated plants are allowed to ferment in vats of water the colorless form of indigo is liberated; stirring of the liquid causes oxidation of the colorless material to form a blue sediment. The natural indigo gives a strong blue color of great permanence. Use of the natural dye greatly decreased after the synthesis of indigo was accomplished. Adolf von Baeyer was the first to synthesize it, but others developed the methods used for its commercial production from anilineaniline
, C6H5NH2, colorless, oily, basic liquid organic compound; chemically, a primary aromatic amine whose molecule is formed by replacing one hydrogen atom of a benzene molecule with an amino group.
.....

Click the link for more information.

and chloroacetic acid.

The Columbia Electronic Encyclopedia™ Copyright © 2013, Columbia University Press. Licensed from Columbia University Press. All rights reserved.

www.cc.columbia.edu/cu/cup/
The following article is from The Great Soviet Encyclopedia (1979). It might be outdated or ideologically biased.
Indigo
plants containing the glycoside indican, the source of blue indigo dye. Only a few indigo plants contain a sufficient quantity of indican for practical use. The most important indigo plant is Indigofera tinctoria, which is native to southern Asia and was once widely cultivated. After the synthesis of indigo, the significance of this and other indigo plants decreased sharply. In the USSR the species Isatis tinctoria and Polygonum tinctoria are occasionally cultivated
---
Indigo
a dark blue crystalline substance; its structural formula is Its melting point is 390°-392°C (with decomposition). It is insoluble in water and alcohol and slightly soluble in other organic solvents.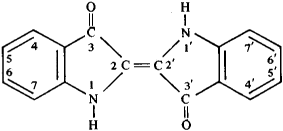 Indigo, which has been known since remote antiquity, is a dye obtained from indigo plants (for example, Indigofera tinctoria); it is extensively used for vat dyeing cotton and silk blue. The principal method of obtaining indigo is by reacting aniline with chloroacetic acid to give phenylglycine, which is then fused with alkali to give indoxyl, which in turn is oxidized to indigo by the oxygen in the air. Reduction of indigo gives the leuco compound indigo white, whose sodium salt of sulfuric acid ester is called indigosol. Owing to the inadequate durability of indigo, it has been replaced by other vat dyes. The determination of the structure of indigo and development of methods of synthesizing it at the end of the 19th century was the start of the development of the manufacture of indigoid dyes.
The Great Soviet Encyclopedia, 3rd Edition (1970-1979). © 2010 The Gale Group, Inc. All rights reserved.
indigo
[

′in·də·gō

]

(organic chemistry)

A blue dye extracted from species of the Indigofera bush.

McGraw-Hill Dictionary of Scientific & Technical Terms, 6E, Copyright © 2003 by The McGraw-Hill Companies, Inc.
indigo
1. any of various tropical plants of the leguminous genus Indigofera, such as the anil, that yield this dye
2.
a. any of a group of colours that have the same blue-violet hue; a spectral colour
b. (as adjective): an indigo carpet
Collins Discovery Encyclopedia, 1st edition © HarperCollins Publishers 2005
Indigo
(1) An earlier family of desktop graphics computers from SGI. The low end were the Indy machines, which included their own digital video camera. The high end included a variety of Indigo workstations, with models specialized for graphics functions such as accelerated texture mapping and image processing. See SGI.

(2) The code name of the messaging system introduced in Windows Vista. See Windows Communication Foundation.

Copyright © 1981-2019 by The Computer Language Company Inc. All Rights reserved. THIS DEFINITION IS FOR PERSONAL USE ONLY. All other reproduction is strictly prohibited without permission from the publisher.