information visualization
Also found in:
Dictionary
,
Thesaurus
,
Medical
,
Acronyms
.
Related to information visualization:
Data visualization
information visualization
Representing data in 3D images in order to navigate through it more quickly and access it in a more natural manner. Although the term was coined at Xerox's Palo Alto Research Center, which has developed very advanced techniques, multidimensional cubes, or pivot tables, are a simpler form of information visualization that is widely used today. See OLAP and slice and dice.



A 3D Cone Tree
Data represented in this form provides faster navigation and allows more information to be seen at one time. The Cone Tree shows the structure of an entire hierarchy all at once, and the cones spin around to retrieve occluded data. (Image courtesy of Palo Alto Research Center; Brian Tramontana, photographer.)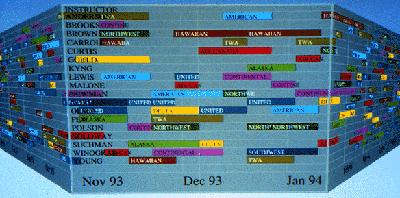 The Perspective Wall
By smoothly moving from side to side, the Perspective Wall gives the user a feeling of "object constancy." Information is provided in a continuous flow from beginning to end. (Image courtesy of Palo Alto Research Center; Brian Tramontana, photographer.)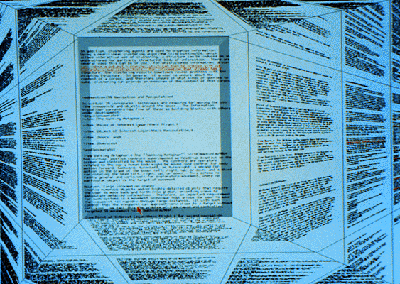 The Data Lens
This 3D pyramidal view of data once again allows more documents in view at one time. Pages "morph" into the front lens when selected. While you may not be using these viewers today, experiments such as this influence the user interface of tomorrow. (Image courtesy of Palo Alto Research Center; Brian Tramontana, photographer.)