infrared
Also found in:
Dictionary
,
Thesaurus
,
Medical
,
Financial
,
Acronyms
,
Wikipedia
.
infrared
the part of the electromagnetic spectrum with a longer wavelength than light but a shorter wavelength than radio waves; radiation with wavelength between 0.8 micrometres and 1 millimetre
Collins Discovery Encyclopedia, 1st edition © HarperCollins Publishers 2005
Infrared
(religion, spiritualism, and occult)

Infrared is the electromagnetic radiation outside the color spectrum range of visibility, at the lower end and next to the red. Infrared film has been sensitized to this radiation. Infrared film is commonly used at séances where there is total darkness, or where the light is too dim to allow regular photography. In this way it is possible to photograph things which cannot be seen under many séance conditions (e.g. ectoplasm, spirit forms).

Sources:

Bletzer, June G.: The Encyclopedia Psychic Dictionary. Lithia Springs: New Leaf, 1998

The Spirit Book © 2006 Visible Ink Press®. All rights reserved.
infrared
[

¦in·frə¦red

]

(electromagnetism)

Pertaining to infrared radiation.

McGraw-Hill Dictionary of Scientific & Technical Terms, 6E, Copyright © 2003 by The McGraw-Hill Companies, Inc.
infrared
That region of the electromagnetic spectrum at wavelengths immediately above the visible spectrum; the heat in this region of the spectrum which is generated by a light source usually is undesirable (since it represents a loss in efficiency), but such heat is used in industrial applications for drying, baking a surface, etc.
McGraw-Hill Dictionary of Architecture and Construction. Copyright © 2003 by McGraw-Hill Companies, Inc.
infrared
An Illustrated Dictionary of Aviation Copyright © 2005 by The McGraw-Hill Companies, Inc. All rights reserved
infrared
(electronics)

(IR) Electromagnetic waves in the frequency range just below visible light corresponding to radiated heat. IR waves can be generated by a kind of

LED

and are often used for remote controls for televisions etc. and in some docking stations.

This article is provided by FOLDOC - Free Online Dictionary of Computing (foldoc.org)
infrared
An invisible band of radiation at the lower end of the visible light spectrum. With wavelengths from 750nm to 1mm, infrared starts at the end of the microwave spectrum and ends at the beginning of visible light. Infrared transmission typically requires an unobstructed line of sight between transmitter and receiver.

Widely used in most audio and video remote controls, infrared transmission is also used for wireless connections between computer devices (see IrDA) and a variety of detectors (see IR detector).

Infrared Can Be Anything Below Red
Infrared means "below red," and red frequencies are at the bottom of visible light. Therefore, infrared may refer to any type of invisible electromagnetic radiation below visible light, including AM, FM and TV. See infrared imaging, infrared wavelengths, IR remote control and IRED.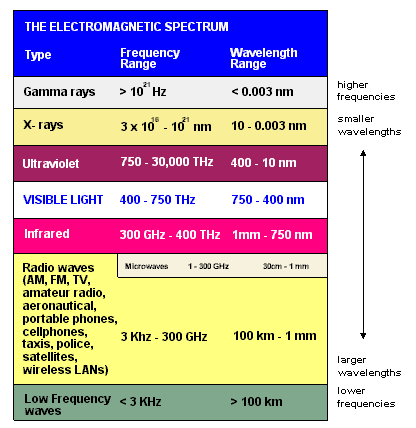 Infrared in the Spectrum
The infrared band comes after the microwave range and ends at visible light.
Copyright © 1981-2019 by The Computer Language Company Inc. All Rights reserved. THIS DEFINITION IS FOR PERSONAL USE ONLY. All other reproduction is strictly prohibited without permission from the publisher.