intarsia
Also found in:
Dictionary
,
Thesaurus
,
Medical
,
Wikipedia
.
intarsia
(ĭntär`sēə)

or
tarsia,
properly a form of wood inlayinginlaying,
process of ornamenting a surface by setting into it material of different color or substance, usually in such a manner as to preserve a continuous plane. Inlay is employed in connection with a great variety of objects, both of major architectural character and of minor
.....

Click the link for more information.

. The term is sometimes applied to inlays of other materials such as ivory and metal. It is differentiated from marquetrymarquetry
, branch of cabinetwork in which a decorative surface of wood or other substance is glued to an object on a single plane. Unlike inlaying, in which the secondary material is sunk into portions of a solid ground cut out to receive it, the technique of marquetry applies
.....

Click the link for more information.

by the basic veneering process of the latter. The term intarsia is specifically applied to a type of inlaying probably developed in Siena, Italy, in the 13th cent. and derived from Middle Eastern inlays of ivory upon wood. This art was widely practiced in Italy from c.1400 to c.1600. The fashion for intarsia declined thereafter, although some works in this medium were still produced. Intarsia work was also practiced to a limited extent elsewhere in western Europe. Designs included pictorial scenes and conventionalized scrolls, arabesques, and geometric forms.

The Columbia Electronic Encyclopedia™ Copyright © 2013, Columbia University Press. Licensed from Columbia University Press. All rights reserved.

www.cc.columbia.edu/cu/cup/
Intarsia
Italian term for the flat decorations made from pieces of variously colored woods, inlaid to form ornamental patterns, architectural perspectives, or figurative scenes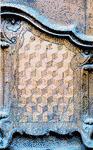 Illustrated Dictionary of Architecture Copyright © 2012, 2002, 1998 by The McGraw-Hill Companies, Inc. All rights reserved
The following article is from The Great Soviet Encyclopedia (1979). It might be outdated or ideologically biased.
Intarsia
a type of inlay in wooden objects (for example, in furniture). Ornamental pictures or designs of varying texture and color are made from wood that is fitted and glued into a wooden support. Intarsia flourished in Italy in the 15th century.
REFERENCE
Krauss, F. Intarsien, 3rd ed. Leipzig, 1958.
The Great Soviet Encyclopedia, 3rd Edition (1970-1979). © 2010 The Gale Group, Inc. All rights reserved.
intarsia
[

in′tär·sē·ə

]

(graphic arts)

Decorative designs of inlaid wood in a background of wood; often used in furniture making. Also known as tarsia.

(textiles)

A pattern in several colors, usually geometrical, in a knitted fabric in which both sides of the fabric are alike.

McGraw-Hill Dictionary of Scientific & Technical Terms, 6E, Copyright © 2003 by The McGraw-Hill Companies, Inc.
inlay, intarsia, marquetry
1. A shaped piece of one material embedded in another as part of a surface ornamentation.
---
intarsia
Mosaic inlay, especially a form of wood inlay.
McGraw-Hill Dictionary of Architecture and Construction. Copyright © 2003 by McGraw-Hill Companies, Inc.