intercolumniation
Also found in:
Dictionary
,
Medical
,
Wikipedia
.
intercolumniation
(ĭn'tərkəlŭm'nēā`shən)

, in classical architecture, the clear space between the edges of two adjacent columns, as measured at the lower portion of their shafts. Vitruvius compiled standard intercolumniations for the three orders, expressed in terms of the column diameter. In the great works of Greek architecture, spacings frequently varied within a single colonnade. Renaissance architects employed a new type of intercolumniation with the use of columns in pairs, those of each pair almost touching.
Intercolumniation
The clear distance between two columns, measured at the lower part of the shafts, according to a system of proportions in Classical architecture, based on the diameter of the column as the governing module.
intercolumniation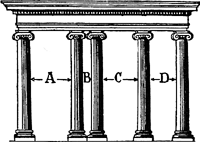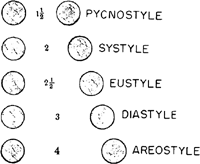 1. The clear space between two adjacent columns, usually measured at the lower parts of the shafts.
2. The system of spacing