intermediate rib
intermediate rib
A subordinate vault rib between primary ribs.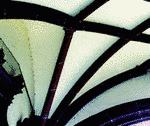 See also: Rib

Illustrated Dictionary of Architecture Copyright © 2012, 2002, 1998 by The McGraw-Hill Companies, Inc. All rights reserved
intermediate rib
1. A rib in vaulting subordinate to the primary ribs.
2. In a sexpartite vault, the transverse rib in the middle of the bay, above the intermediate and smaller piers.
McGraw-Hill Dictionary of Architecture and Construction. Copyright © 2003 by McGraw-Hill Companies, Inc.