isolation joint
isolation joint
A joint that separates one concrete section from another so that each one can move independently; found in floors, at columns, and at junctions between the floor and walls.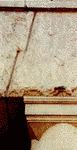 See also: Joint

Illustrated Dictionary of Architecture Copyright © 2012, 2002, 1998 by The McGraw-Hill Companies, Inc. All rights reserved
isolation joint
A joint, such as an expansion joint, between two adjacent structures which are not in physical contact.
McGraw-Hill Dictionary of Architecture and Construction. Copyright © 2003 by McGraw-Hill Companies, Inc.