jumper
(redirected from jumpers)
Also found in:
Dictionary
,
Thesaurus
,
Medical
,
Wikipedia
.
jumper
1. Engineering a boring tool that works by repeated impact, such as a steel bit in a hammer drill used in boring rock
2. Electronics a short length of wire used to make a connection, usually temporarily, between terminals or to bypass a component
3. a type of sled with a high crosspiece
jumper
[

′jəm·pər

]

(electricity)

A short length of conductor used to make a connection between two points or terminals in a circuit or to provide a path around a break in a circuit.
jumper
1. A short length of electric cable fitted with connectors at both ends, connected across a device in an electric circuit so that the current bypasses the device.
2. A steel bar which is moved up and down manually in a borehole in the ground; used as a drilling or boring tool.
3. In a stone wall, a stone that is two or more courses, 1 high.
jumper
(hardware)

A removable wire or small plug whose presence or absence is used to determine some aspect of hardware configuration.
jumper
A small, plastic-covered metal block that is pushed onto two pins to close a circuit. An alternative to the DIP switch, the jumper is a less costly on/off switch found on motherboards and peripheral devices for one-time configuration. Although jumpers exist on modern computers, especially on hard disk drives, they were more prevalent in the early days of personal computers. Configuration of the hardware via software eliminated the use of many jumpers. See DIP switch and jumperless.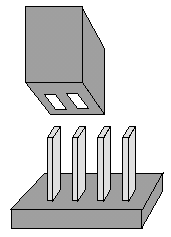 Jumper
Jumpers are used to select options on printed circuit boards. The more sophisticated the board, the fewer the jumpers. Having no jumpers is best if changes have to be made by the user, otherwise the board has to be pulled out of the case.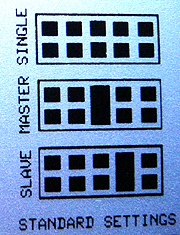 Hard Drive Selection
Jumpers are used on IDE/ATA hard drives to select their operation mode, and schematics like this one are commonly found on the drive to show how to place the jumper on the pins. In "Single" mode, the jumper is not used.