katabatic wind
Also found in:
Dictionary
,
Thesaurus
,
Wikipedia
.
katabatic wind
[

¦kad·ə¦bad·ik ′wind

]

(meteorology)

McGraw-Hill Dictionary of Scientific & Technical Terms, 6E, Copyright © 2003 by The McGraw-Hill Companies, Inc.
The following article is from The Great Soviet Encyclopedia (1979). It might be outdated or ideologically biased.
Katabatic Wind
a flow of cold air down relatively gentle slopes of mountain ranges, caused by the force of gravity (in contrast to the bora, which blows down steep slopes). Such winds are observed primarily at night when the ground layer of air cools. They include glacier winds, which are more intense in the summer when the air above glaciers is especially cool relative to the air above the surrounding area at the same elevation. The most severe katabatic winds occur in Antarctica, where air flows from the high continental ice cap to the shores; these winds reach high velocities near the shores but do not extend farther than 8–10 km into the ocean. The direction of katabatic winds at the antarctic shore is most frequently southeast; this is a result of the meridional component of the wind and the eastward movement of air around a continent in the course of general atmospheric circulation.
The Great Soviet Encyclopedia, 3rd Edition (1970-1979). © 2010 The Gale Group, Inc. All rights reserved.
katabatic wind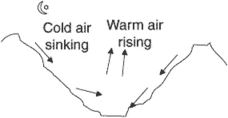 The cold wind that flows down the slopes of the mountains and spreads at the base of the mountains.
An Illustrated Dictionary of Aviation Copyright © 2005 by The McGraw-Hill Companies, Inc. All rights reserved