plug
(redirected from lacrimal plug)
Also found in:
Dictionary
,
Thesaurus
,
Medical
,
Financial
.
plug
1. a device having one or more pins to which an electric cable is attached: used to make an electrical connection when inserted into a socket
2. a mass of solidified magma filling the neck of an extinct volcano
4.
a. a cake of pressed or twisted tobacco, esp for chewing
b. a small piece of such a cake
5. Angling a weighted artificial lure with one or more sets of hooks attached, used in spinning
6. a seedling with its roots encased in potting compost, grown in a tray with compartments for each individual plant
What does it mean when you dream about a plug?
Putting a plug into an outlet or a socket may indicate getting an increase in one's energy or knowledge. Could also suggest the dreamer will be getting hooked up with new people or new ideas that will plug her or him into a better social network for business or personal goals.
plug
[

pləg

]

(electricity)

The half of a connector that is normally movable and is generally attached to a cable or removable subassembly; inserted in a jack, outlet, receptacle, or socket.

(geology)

A vertical pipelike magmatic body representing the conduit to a former volcanic vent.

A crater filling of lava, the surrounding material of which has been removed by erosion.

A mass of clay, sand, or other sediment filling the part of a stream channel abandoned by the formation of a cutoff.

(metallurgy)

A rod or mandrel over which a pierced tube is forced, or that fills a tube as it is drawn through a die.

A punch or mandrel over which a cup is drawn.

A protruding portion of a die impression for forming a corresponding recess in the forging.

A false bottom in a die. Also known as peg.

(mining engineering)

A watertight seal in a shaft formed by removing the lining and inserting a concrete dam, or by placing a plug of clay over ordinary debris used to fill the shaft up to the location of the plug.

(science and technology)

A piece of material used to fill a hole.

A small segment of material removed from a larger object.
plug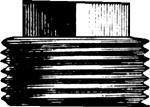 1. A small cylinder or dowel of wood (or other material) driven into a wall, to which a fastener is fixed.
2. A small piece of wood, plywood, veneer, etc., fitted into a recess to patch a defect; an insert or patch.
3. A fibrous or resinous material used to fill a void and otherwise patch a surface.
4. In plumbing, a drain-opening stopper; a fitting for closing the end of a pipe.
7.
A device for connecting wires to a
jack
.
8. A circular core of sod used in maintaining a lawn.