lamella roof
lamella roof
[

lə′mel·ə 'rüf

]

(building construction)

A large span vault built of members connected in a diamond pattern.
lamella roof
A roof frame consisting of a series of skewed arches, made up of relatively short members, fastened together at an angle so that each is intersected by two similar adjacent members at its midpoint, forming a network of interlocking diamonds.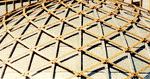 See also: Roof
lamella roof
A vaulted roof-framing system composed of lamellae.