laminated joint
finger joint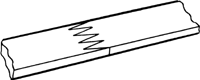 A
heading joint
having interlaced, finger-like projections on the ends of the joined members.
References in periodicals archive
?
Cross-lap
laminated joint
construction provides one of the simplest and most straightforward methods of constructing strong dimensionally accurate side frames from either thick or thin slats.
The mode of failure of the joints during testing is of interest because of possible weakening of the
laminated joints
in service owing to shrinking and swelling of the wood.