landing direction indicator
landing direction indicator
[

′land·iŋ də¦rek·shən ′in·də'kād·ər

]

(navigation)

A device which indicates visually to pilots of aircraft the direction designated for landing or takeoff.

McGraw-Hill Dictionary of Scientific & Technical Terms, 6E, Copyright © 2003 by The McGraw-Hill Companies, Inc.
landing direction indicator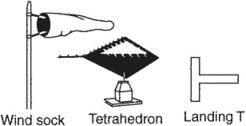 A device to indicate visually the direction currently designated for landing and takeoff (ICAO). Wind cones, windsocks, landing T, and tetrahedron are some of the devices used as landing direction indicators.
An Illustrated Dictionary of Aviation Copyright © 2005 by The McGraw-Hill Companies, Inc. All rights reserved