laser gyro
laser gyro
[

′lā·zər ¦jī'rō

]

(engineering)

A gyro in which two laser beams travel in opposite directions over a ring-shaped path formed by three or more mirrors; rotation is thus measured without the use of a spinning mass. Also known as ring laser.

McGraw-Hill Dictionary of Scientific & Technical Terms, 6E, Copyright © 2003 by The McGraw-Hill Companies, Inc.
laser gyro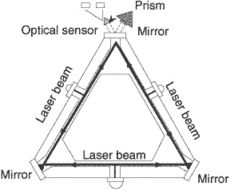 A highly accurate way to measure change in an angular position or angular rate without the use of any mechanically spinning wheel. The ringed laser gyro—principle is based on the small frequency difference produced between two laser beams traveling in opposite directions. When the gyro is rotated, the frequency difference is measured and the data processed to determine the angular velocity with very high accuracy. The main advantages of a laser gyro are that there are no moving parts; there is no warm-up time, and there is a high
long-term stability and rate capability. They are insensitive to acceleration and provide fine resolution over a full dynamic range.
An Illustrated Dictionary of Aviation Copyright © 2005 by The McGraw-Hill Companies, Inc. All rights reserved