laser sintering
Also found in:
Dictionary
,
Thesaurus
,
Medical
,
Financial
.
Related to laser sintering:
stereolithography
,
Selective laser sintering
laser sintering
Building prototypes and finished parts in a machine from powdered thermoplastics and metals that are cured by heat from a laser. From CAD drawings that have been cross sectioned into thousands of layers, the machine builds up the part by curing one layer at a time. Powder is added for the next layer, and at the end of the job, the excess powder is removed and recycled for the next product. Also called "selective laser sintering" (SLS), it is one of several additive fabrication technologies used in rapid prototyping and rapid manufacturing. See 3D printing for an overview of the major methods.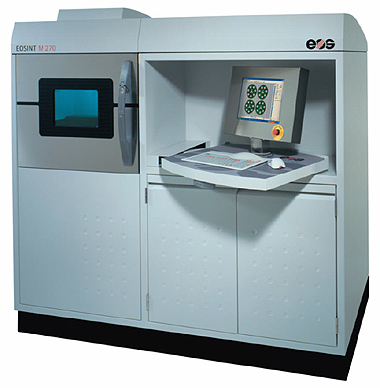 Metal Laser Sintering
The EOSINT system from Electro Optical Systems (EOS) uses a laser beam to fuse metal powder into solid parts layer by layer. A variety of powders can be used from light steel alloys to strong composites. This water pump part was made from EOS MaragingSteel powder, which is an iron-based steel alloy that is known for its durability. The part was cut open to show its inner channels. (Images courtesy of EOS GmbH, www.eos.info)
Metal Laser Sintering
The EOSINT system from Electro Optical Systems (EOS) uses a laser beam to fuse metal powder into solid parts layer by layer. A variety of powders can be used from light steel alloys to strong composites. This water pump part was made from EOS MaragingSteel powder, which is an iron-based steel alloy that is known for its durability. The part was cut open to show its inner channels. (Images courtesy of EOS GmbH, www.eos.info)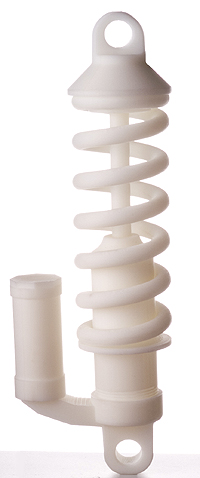 Plastic Laser Sintering
This plastic shock absorber prototype was created in a 3D Systems Sinterstation. Plastic laser sintering is widely used for making prototypes for evaulating a design concept as well as to determine if the part works properly with other parts. For short runs, laser sintering is also used to make finished, plastic parts. (Image courtesy of 3D Systems, Inc., www.3dsystems.com)