layer
(redirected from layer of rods and cones)
Also found in:
Dictionary
,
Thesaurus
,
Medical
,
Wikipedia
.
layer
1. one of four or more levels of vegetation defined in ecological studies: the ground or moss layer, the field or herb layer, the shrub layer, and one or more tree layers
2. a laying hen
3.
Horticulture
a. a shoot or branch rooted during layering
b. a plant produced as a result of layering
Collins Discovery Encyclopedia, 1st edition © HarperCollins Publishers 2005
layer
[

′lā·ər

]

(computer science)

One of the divisions within which components or functions are isolated in a computer system with layered architecture or a communications system with layered protocols.

(geology)

A tabular body of rock, ice, sediment, or soil lying parallel to the supporting surface and distinctly limited above and below.

(geophysics)

One of several strata of ionized air, some of which exist only during the daytime, occurring at altitudes between 30 and 250 miles (50 and 400 kilometers); the layers reflect radio waves at certain frequencies and partially absorb others.

(metallurgy)

The stratum of weld metal consisting of one or more passes and lying parallel to the welding surface.

McGraw-Hill Dictionary of Scientific & Technical Terms, 6E, Copyright © 2003 by The McGraw-Hill Companies, Inc.
course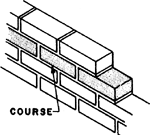 1. A layer of masonry units running horizontally in a wall or, much less commonly, curved over an arch; it is bonded with mortar.
2. A continuous row or layer of material, as shingles, tiles, etc.
3.
In concrete construction, one of several horizontal layers making up a
lift
,
5.
For specific types, see
band course, base course, belt course, blocking course, bond course, coping course, corbel course, dog-tooth course, masonry course, random course, sill course, springing course, staggered course, stringcourse, tumbling course.
McGraw-Hill Dictionary of Architecture and Construction. Copyright © 2003 by McGraw-Hill Companies, Inc.
layer
This article is provided by FOLDOC - Free Online Dictionary of Computing (foldoc.org)
layer
(1) A blockchain level. See chain and blockchain.

(2) One of seven levels of processing in a network protocol. See OSI model.

(3) A tier. Layers tend to refer to software that comprise a hierarchy of code, each layer communicating with the one above or below it.

(4) One of several "drawing boards" or "canvasses" for creating elements in a picture. See layers and flatten layers.

Copyright © 1981-2019 by The Computer Language Company Inc. All Rights reserved. THIS DEFINITION IS FOR PERSONAL USE ONLY. All other reproduction is strictly prohibited without permission from the publisher.