lift coefficient
Also found in:
Wikipedia
.
lift coefficient
[

′lift 'kō·i'fish·ənt

]

(aerospace engineering)

The quantity CL = 2 L /ρ V 2 S, where L is the lift of a whole airplane wing, ρ is the mass density of the air, V is the free-stream velocity, and S is the wing area; this is also applicable to other airfoils.

McGraw-Hill Dictionary of Scientific & Technical Terms, 6E, Copyright © 2003 by The McGraw-Hill Companies, Inc.
lift coefficient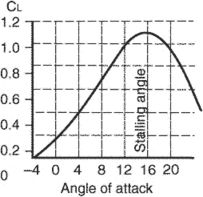 A dimensionless number used in the formulae for aerodynamic lift that varies with the
angle of attack (α) and the shape of the airfoil. The coefficient is derived from wind tunnel data and describes the characteristics of an airfoil.
An Illustrated Dictionary of Aviation Copyright © 2005 by The McGraw-Hill Companies, Inc. All rights reserved