lightning conductor
Also found in:
Dictionary
,
Thesaurus
,
Medical
,
Legal
,
Financial
,
Wikipedia
.
lightning conductor
, rod

a metal strip terminating in a series of sharp points, attached to the highest part of a building, etc., to discharge the electric field before it can reach a dangerous level and cause a lightning strike
Lightning conductor
A metal device that leads an electrical charge from a strike by lightning safely to the ground; typically a braided copper wire connected to a lightning rod on the roof and grounded to a water pipe or other underground metal conductor.
lightning conductor
[

′līt·niŋ kən'dək·tər

]

(electricity)

A conductor designed to carry the current of a lightning discharge from a lightning rod to ground.
lightning conductor, lightning rod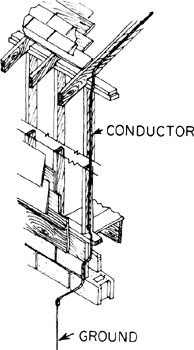 A metallic cable or rod, running from the highest point on the roof of a building (and insulated from it) to the ground; protects the building, should lightning strike, by providing a direct path to ground.