linear function
Also found in:
Wikipedia
.
linear function
[

′lin·ē·ər ′fəŋk·shən

]

(mathematics)

McGraw-Hill Dictionary of Scientific & Technical Terms, 6E, Copyright © 2003 by The McGraw-Hill Companies, Inc.
The following article is from The Great Soviet Encyclopedia (1979). It might be outdated or ideologically biased.
Linear Function
a function of the form y = kx + b. The basic property of a linear function is that an increment in the function is proportional to the corresponding increment in the independent variable. The graph of a linear function is a straight line. If we use the same units on the coordinate axes, then the coefficient k (the slope) is equal to the tangent of the angle formed by the line with the Ox axis (k = tan ϕ; see Figure 1) and b is the segment cut off by the line on the Oy axis. When b = 0, the linear function is called homogeneous; its graph depicts the direct proportion: y = kx.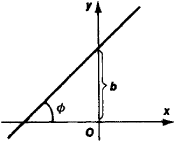 Linear functions are widely used in physics and engineering in order to represent (often approximately) the dependence of various quantities. Linear functions of several variables are also studied. Homogeneous linear functions of several variables are called linear forms. Homogeneous linear functions which send vectors to vectors are called linear transformations.
The Great Soviet Encyclopedia, 3rd Edition (1970-1979). © 2010 The Gale Group, Inc. All rights reserved.
linear function
A
recursive
function is linear if it is of the form
f x = if p x then q x else h f x
where h is a "linear functional" which means that
(1) for all functions, a, b c and some function ht
h (if a then b else c) = if ht a then h b else h c
Function ht is known as the "predicate transformer" of h.
(2) If for some x,
h (\ y . bottom) x /= bottom
then
for all g, ht g x = True.
I.e. if h g x terminates despite g x not terminating then ht g x doesn't depend on g.
See also
linear argument
.
This article is provided by FOLDOC - Free Online Dictionary of Computing (foldoc.org)