Loader
Also found in:
Dictionary
,
Thesaurus
,
Acronyms
,
Wikipedia
.
loader
[

′lōd·ər

]

(computer science)

A computer program that takes some other program from an input or storage device and places it in memory at some predetermined address.

(mechanical engineering)

A machine such as a mechanical shovel used for loading bulk materials.

(ordnance)

Mechanical device which loads guns with cartridges.

McGraw-Hill Dictionary of Scientific & Technical Terms, 6E, Copyright © 2003 by The McGraw-Hill Companies, Inc.
The following article is from The Great Soviet Encyclopedia (1979). It might be outdated or ideologically biased.
Loader
(in mining), a machine for underground loading of useful minerals and rock onto materials-transport units. Loaders have become common at working faces in mining excavation and extraction work. Loaders are distinguished according to the means of picking up the bulk load, the type of working element, and the method of transferring the load to materials-transport units.
In loaders with ground pickup, the material is taken up by a bucket that tips backward to unload into materials-transport units (direct-loading machines), pours the load onto a conveyor
Table 1. Specifications of certain loaders produced in the USSR
Working member
Productivity (m3/min)
Dimensions (mm)
Means of movement
Weight (tons)
length
width
height
maximum
traveling
PPN-1s ........
Bucket with capacity of 0.25 m3
0.8
2,270
1,320
2,250
1,600
Rail
3.5
PPN-2 ........
Bucket with capacity of 0.32 m3
1.0
2,250
1,320
2,350
1,600
Rail
4.7
PPM-4 ........
Bucket with capacity of 0.32 m3
1.1
7,430
1,400
2,250
1,725
Rail
9.0
PPN-2g .......
Bucket with capacity of 0.32 m3
1.0
2,600
1,450
2,550
1,600
Crawler
4.8
PPN-4g .......
Bucket with capacity of 0.8 m3
2.0
3,800
2,000
3,000
2,000
Crawler
1.3
2PNB-2 .......
Gathering arms
2.0
7,800
1,400
2,600
1,460
Crawler
11.8
PNB-3k........
Gathering arms
3.0
8,500
2,000
2,800
1,900
Crawler
29.6
(stepped-loading machines), or tips forward or to the side. Side pickup is done by a loading element in the form of an inclined receiving platform with a pair of gathering arms or two bars and chains with cantilever scrapers; pickup from above is done by a rake mounted on an arm, which is lowered onto the bulk material and rakes it onto the conveyor.
Loaders may have wheels and rails, crawlers, or pneumatic tires; they have pneumatic, electric, and electrohydraulic drive or a self-contained diesel drive with gas-purifying equipment. The designs of some loaders provide for mounting removable equipment (manipulators with punches to bore blastholes, small winches for rigging work, and so on).
During extraction work, loaders are used together with self-propelled face equipment that rides on pneumatic tires. In addition to loaders, the face equipment includes drilling carriages, railroad cars and dump trucks, bulldozers, blasthole chargers, and auxiliary machines for installing roof bolting, trimming roofs, and moving equipment, materials, and personnel.
Specifications of certain models of loaders produced in the USSR are given in Table 1.
Companies such as Eimco in the USA, Atlas Copco in Sweden, and Salzgitter in the Federal Republic of Germany manufacture loaders with scoop capacities of 0.1–1.15 cu m, weight of 1.8–25 tons, total engine power of 10–120 kilowatts, and productivity of 0.2–6 m3/min. The Joy Manufacturing Company in the USA produces crawler gathering-arm loaders, which are used in coal mines.
New working elements for loaders—for example, top-mounted vibration gathering arms—and remote and automatic control equipment are being developed in the USSR.
REFERENCES
Kal'nitskii, Ia. B., Kh. I. Abramson, and G. V. Rodionov. Podzemnaia mekhanizirovannaia pogruzka. Moscow, 1961.
Mekhanizatsiia transportnykh i pogruzochnykh rabot pri dobyche i skhdirovanii gornokhimicheskogo syr'ia. Moscow, 1972.
Pogruzochnye, pogruzochno-dostavochnye, transportnye mashiny i burovoe oborudovanie za rubezhom, parts 1–2. Moscow, 1973.
---
Loader
a self-propelled machine for picking up, lifting, and conveying loads and placing them in vehicles or on stacks or piles. Intermittent-operation loaders perform the operations of picking up, conveying, and unloading in sequence; continuous-operation loaders do so continuously.
A distinction is made between general-purpose loaders, which are used in various sectors of the economy for a broad assortment of loads and are made with up to 40 types of interchangeable working equipment, and special-purpose loaders, which are designed for a limited range of loads or for special conditions (for example, mine loaders). The loader equipment is mounted on a specially designed frame or on the chassis of a tractor, wheeled prime mover, or truck.
The most common intermittent-operation loaders are electric lift trucks and front-end loaders powered by internal-combustion engines. The working equipment of intermittent-operation loaders usually has a positive-displacement hydraulic drive. Mechanical, electric, or hydrodynamic transmissions (the last type uses hydrotransformers) or motor-wheels are used in the propulsion mechanisms. Lift trucks have standardized working equipment, consisting of a lifting member with a set of interchangeable load-gripping attachments. In addition to loading and conveying bulk, lump, and unit (piece) loads, single-scoop loaders can perform earth, road, and quarry work and can pull out stumps and cut brush. Their main working element is a scoop attached by hinges to the end of the hoisting boom. The scoop operates through the power crowding of the running gear or by means of hydraulic cylinders when the running gear is stopped. Scoops of normal, high, or low capacity are used, depending on the average density of the material being handled. In addition to scoops, such other working elements as forks, jaw-clamps, and crane hooks may also be used. Scoop capacities are 0.1–30 cu m, with an engine power of 10–700 kilowatts and unloading heights of 2.5–4 m; travel speeds reach 12 km/hr for crawler loaders and 50 km/hr for wheeled loaders.
Continuous-operation loaders are self-propelled conveyors with self-feeding; they are used for loading and transporting bulk and lump loads from stacks and piles. They are more productive than single-scoop loaders (30–400 m3/hr), and they use less energy and metal. Their working equipment includes a raking or gripping feeder, a transporting element, which is the basic conveyor (bucket, belt, flight, or other type), and the dumping element, which is usually an auxiliary belt conveyor or bending chute. In many designs the basic conveyor also performs the functions of the load-gripping or dumping element. Continuous-operation loaders have mechanical drive (less frequently electromechanical or electrohydraulic drive) for the working element; to achieve low working speeds the propulsion mechanisms are equipped with reducing gears driven by hydraulic engines. Hydrostatic transmission is used in some types of machines.
The Great Soviet Encyclopedia, 3rd Edition (1970-1979). © 2010 The Gale Group, Inc. All rights reserved.
loader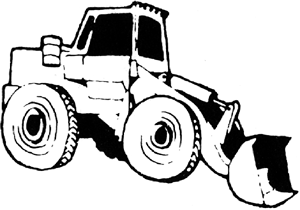 A self-powered machine equipped with a front-mounted bucket and lift arms for pushing and raising a load of earth or other construction materials; usually mounted on wheels or crawler-track undercarriage.
McGraw-Hill Dictionary of Architecture and Construction. Copyright © 2003 by McGraw-Hill Companies, Inc.
loader
A program routine that copies a program into memory for execution.

Copyright © 1981-2019 by The Computer Language Company Inc. All Rights reserved. THIS DEFINITION IS FOR PERSONAL USE ONLY. All other reproduction is strictly prohibited without permission from the publisher.