loop
(redirected from loop-the-loops)
Also found in:
Dictionary
,
Thesaurus
,
Medical
,
Idioms
.
loop
1. Electronics a closed electric or magnetic circuit through which a signal can circulate
2. a flight manoeuvre in which an aircraft flies one complete circle in the vertical plane
3. Chiefly Brit a railway branch line which leaves the main line and rejoins it after a short distance
4. Maths Physics a closed curve on a graph
6.
Anatomy
a. the most common basic pattern of the human fingerprint, formed by several sharply rising U-shaped ridges
b. a bend in a tubular structure, such as the U-shaped curve in a kidney tubule (Henle's loop or loop of Henle)
7. Computing a series of instructions in a program, performed repeatedly until some specified condition is satisfied
8. Skating a jump in which the skater takes off from a back outside edge, makes one, two, or three turns in the air, and lands on the same back outside edge
Collins Discovery Encyclopedia, 1st edition © HarperCollins Publishers 2005
loop
[

lüp

]

(aerospace engineering)

A flight maneuver in which an airplane flies a circular path in an approximately vertical plane, with the lateral axis of the airplane remaining horizontal, that is, an inside loop.

(computer science)

A sequence of computer instructions which are executed repeatedly, but usually with address modifications changing the operands of each iteration, until a terminating condition is satisfied.

(electricity)

A closed path or circuit over which a signal can circulate, as in a feedback control system.

Commercially, the portion of a connection from central office to subscriber in a telephone system.

(computer science)

(electromagnetism)

(engineering)

A reel of motion picture film or magnetic tape whose ends are spliced together, so that it may be played repeatedly without interruption.

A closed circuit of pipe in which materials and components may be placed to test them under different conditions of temperature, irradiation, and so forth.

(mathematics)

A line which begins and ends at the same point of the graph.

(physics)

A closed curve on a graph, such as a hysteresis loop.

That part of a standing wave where the vertical motion is greatest and the horizontal velocities are least.

(astronomy)

McGraw-Hill Dictionary of Scientific & Technical Terms, 6E, Copyright © 2003 by The McGraw-Hill Companies, Inc.
loop
McGraw-Hill Dictionary of Architecture and Construction. Copyright © 2003 by McGraw-Hill Companies, Inc.
loop
g
(i.e., the cockpit remains on the outside of the circle), then it is known as a
bunt
, or an
outside loop
. Unless other-wise stated, the term
loop
refers to a normal loop (i.e., one with positive
g
and the cockpit remaining inside the circle throughout the maneuver).
An Illustrated Dictionary of Aviation Copyright © 2005 by The McGraw-Hill Companies, Inc. All rights reserved
loop
(programming)

This article is provided by FOLDOC - Free Online Dictionary of Computing (foldoc.org)
loop
A repeating sequence in a program. Most software programs have a main loop and a series of minor loops nested within. Learning how to set up loops is fundamental programming logic. For a detailed look at an actual loop, see event loop.

Loops are accomplished by various programming structures that have a beginning, body and end. The beginning generally tests the condition that keeps the loop going. The body comprises the repeating statements, and the end points back to the beginning. In assembly language, the programmer writes a GOTO instruction as in the following pseudocode example that counts to 10. See pseudocode.


   move     "0" to EventCounter
 EventLoop  add      "1" to EventCounter   compare  EventCounter to "10"   goto     EventLoop if unequal   stop


In a high-level language, the pointer back to the beginning is generated by the interpreter or compiler as in this pseudocode example, which uses a WHILE loop. See pseudocode and do loop.



   EventCounter = 0do while EventCounter not equal to 10
      EventCounter = EventCounter + 1enddostop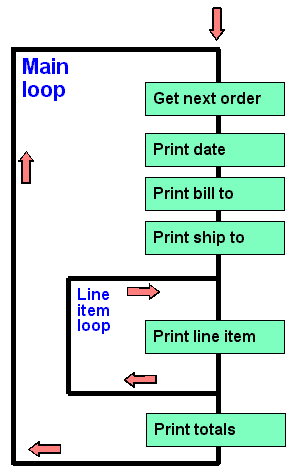 Batch Print the Invoices
This batch processing example reads order records and prints invoices. After printing date and bill-to/ship-to addresses, the program prints a variable number of line items. The line item loop is repeated as many times as required.
Copyright © 1981-2019 by The Computer Language Company Inc. All Rights reserved. THIS DEFINITION IS FOR PERSONAL USE ONLY. All other reproduction is strictly prohibited without permission from the publisher.