louver
Also found in:
Dictionary
,
Thesaurus
,
Acronyms
,
Wikipedia
.
louvre
(US), louver

1.

a. any of a set of horizontal parallel slats in a door or window, sloping outwards to throw off rain and admit air

b. the slats together with the frame supporting them

2. Architect a lantern or turret that allows smoke to escape
Louver
A window opening made up of overlapping boards, blades or slats, either fixed or adjustable, designed to allow ventilation in varying degrees without letting the sun or rain come in.

louver
[

′lü·vər

]

(building construction)

An opening in a wall or ceiling with slanted or sloping slats to allow sunlight and ventilation and exclude rain; may be fixed or adjustable, and may be at the opening of a ventilating duct. Also known as outlet ventilator.

(engineering)

Any arrangement of fixed or adjustable slatlike openings to provide ventilation.

(engineering acoustics)

An arrangement of concentric or parallel slats or equivalent grille members used to conceal and protect a loudspeaker while allowing sound waves to pass.
louver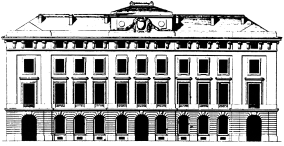 1. An assembly of sloping, overlapping blades or slats; may be fixed or adjustable; designed to admit air and/or light in varying degrees and to exclude rain and snow; esp. used in doors, windows, and the intake and discharge of mechanical ventilation systems.
2. A dome or turret rising from the roof of the hall of a medieval English residence, originally open at the sides to
louver
A slotted opening in the structure that acts as an inlet of air. The amount of air may be controlled by opening or closing the openings in the louver.