roll
(redirected from lumbar roll)
Also found in:
Dictionary
,
Thesaurus
,
Medical
,
Legal
,
Financial
.
airfoil
airfoil, surface designed to develop a desired force by reaction with a fluid, especially air, that is flowing across the surface. For example, the fixed wing surfaces of an airplane produce lift, which opposes gravity. Airfoils that are manipulated to produce variable forces are called control surfaces. Ailerons, control surfaces hinged to the trailing edges of wings, can produce rolling, which is rotational motion of the aircraft about a line running through its fuselage, or yawing, which is rotational motion about a line running from the top to the bottom of an aircraft. Modern aircraft have fairly complex arrays of control surfaces, including elevators, a rudder, and flaps. Elevators, which are hinged to the rear of the horizontal airfoil of the tail assembly, are used to produce pitching, which occurs when an airplane in level flight points its nose upward or downward. The rudder, which is hinged to the rear of the vertical airfoil of the tail assembly, is used to produce yawing. Flaps are located near the ailerons to increase lift for takeoff and landing. Spoilers, which can be made to protrude from lifting surfaces to give controlled reduction of lift, often replace ailerons and elevators. In aircraft of the swing-wing type, in which the sweep of the wings is variable, the entire wing can be considered a control surface. Other airfoils include propeller blades and the blades utilized in turbojet engines.
The Columbia Electronic Encyclopedia™ Copyright © 2022, Columbia University Press. Licensed from Columbia University Press. All rights reserved.
roll
[

rōl

]

(geology)

A primary sedimentary structure produced by deformation involving subaqueous slump or vertical foundering.

(mechanics)

Rotational or oscillatory movement of an aircraft or similar body about a longitudinal axis through the body; it is called roll for any degree of such rotation.

(mechanical engineering)

A cylinder mounted in bearings; used for such functions as shaping, crushing, moving, or printing work passing by it.

(mining engineering)

(textiles)

A continuous strand made by rolling, rubbing, or twisting fibers.

McGraw-Hill Dictionary of Scientific & Technical Terms, 6E, Copyright © 2003 by The McGraw-Hill Companies, Inc.
roll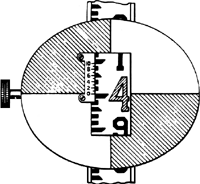 1. A rounded strip fastened to, and running along, the ridge of a roof.
2. In a roof covered
McGraw-Hill Dictionary of Architecture and Construction. Copyright © 2003 by McGraw-Hill Companies, Inc.
roll
An Illustrated Dictionary of Aviation Copyright © 2005 by The McGraw-Hill Companies, Inc. All rights reserved
roll
1. a cylinder used to flatten something; roller
2. a very rapid beating of the sticks on a drum
3. a flight manoeuvre in which an aircraft makes one complete rotation about its longitudinal axis without loss of height or change in direction
4. a throw of dice
5. a bookbinder's tool having a brass wheel, used to impress a line or repeated pattern on the cover of a book
Collins Discovery Encyclopedia, 1st edition © HarperCollins Publishers 2005