Magnetic Head
Also found in:
Dictionary
,
Thesaurus
.
magnetic head
[

mag′ned·ik ′hed

]

(electronics)

The electromagnet used for reading, recording, or erasing signals on a magnetic disk, drum, or tape. Also known as magnetic read/write head.

McGraw-Hill Dictionary of Scientific & Technical Terms, 6E, Copyright © 2003 by The McGraw-Hill Companies, Inc.
The following article is from The Great Soviet Encyclopedia (1979). It might be outdated or ideologically biased.
Magnetic Head
the central element of a device used for the recording, erasing, and playback of information.
The major parts of the magnetic head are a core (a magnetic circuit) that concentrates a magnetic flux and one or more coils that deliver or collect electric signals. Cores are made of 79NM, 79NM-U, and SONKhS nickel-iron alloys, Iu-16 and Iu-16M aluminum alloys (Alfenol), ferrites, or Permalloy. On the side facing the recording medium, the core has a working gap, a space that is filled with a nonmagnetic material (for example, beryllium-bronze foil) and that provides a magnetic coupling between the magnetic head and the recording medium. Depending on the position of the working gap relative to the medium, it is possible to make magnetic recordings with longitudinal, transverse, or perpendicular magnetization. The core of the magnetic head either adjoins the medium (contact recording) or is separated from it by an air gap (contactless recording).
Figure 1 shows a diagram of the most common type of longitudinal-magnetization contact recording. When recording, electric signals supplied to the coil (5) induce a magnetic flux in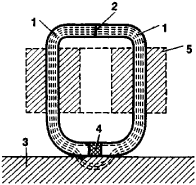 the core (1) that, penetrating a section of the magnetic surface of the moving recording medium (3) in the vicinity of the working gap (4), varies the residual magnetization of the section in conformity with the signal being recorded. In playback, an effective electromotive force (emf), or signal, arises as a result of the electromagnetic induction created by the relative movement between the magnetic head and the recording medium.
Some magnetic heads are responsive to variation in the effective magnetic flux. Their emf does not depend on the speed of the relative movement of the head along the recording track. There are also semiconductor magnetic heads that operate on the Hall effect. Other magnetic heads operate on the basis of a periodic variation in the magnetic reluctance of the core or working gap. Still others are based on the interaction of the magnetic field from the recorded signal with an electron beam.
Magnetic heads are used extensively in magnetic information recording and reproducing devices (for example, dictaphones, tape recorders, video tape recorders, memories, and measurement recorders).
REFERENCES
Efimov, E. G. Magnitnye golovki. Moscow, 1967.
Kagan, B. M, V. I. Adas'ko, and R. R. Pure. Zapominaiushchie ustroistva boVshoi emkosti. Moscow, 1968.
The Great Soviet Encyclopedia, 3rd Edition (1970-1979). © 2010 The Gale Group, Inc. All rights reserved.