magnetosphere
Also found in:
Dictionary
,
Thesaurus
,
Wikipedia
.
magnetosphere:
see Van Allen radiation beltsVan Allen radiation belts,
belts of radiation outside the earth's atmosphere, extending from c.400 to c.40,000 mi (c.650–c.65,000 km) above the earth. The existence of two belts, sometimes considered as a single belt of varying intensity, was confirmed from information
.....

Click the link for more information.

.

The Columbia Electronic Encyclopedia™ Copyright © 2013, Columbia University Press. Licensed from Columbia University Press. All rights reserved.

www.cc.columbia.edu/cu/cup/
magnetosphere
(mag-nee -tŏ-sfeer) A region of space surrounding a planet within which charged particles are controlled by the magnetic field of the planet rather than by the Sun's magnetic field, which is carried by the solar wind (see interplanetary medium). The solar wind is the source of most of the charged particles, which form a tenuous gas known as a plasma. The region of a planet's magnetosphere is delimited by a boundary called the magnetopause and includes any radiation belts of the planet, such as the Van Allen belts of the Earth. The Earth's magnetosphere extends to 60 000 km on the sunward side of the planet but is drawn out by the solar wind into an elongated extension called a magnetotail stretching many times this distance on the side away from the Sun (see illustration). Magnetic reconnection of the magnetic field lines of the Sun and Earth occurs across the sunward surface of the magnetopause (at points where two lines are in opposing directions); reconnection allows energy and particles to be transferred to the magnetosphere from the solar wind. Above the magnetopause is a layer of turbulent magnetic field, the magnetosheath, enclosed by a shock wave where the smooth flow of solar-wind particles past the planet is first interrupted. Mercury, Jupiter, Saturn, Uranus, and Neptune are also known to possess magnetospheres. See also geospace.

Collins Dictionary of Astronomy © Market House Books Ltd, 2006
magnetosphere
[

mag'′nēd·ə'sfir

]

(geophysics)

The region of the earth in which the geomagnetic field plays a dominant part in controlling the physical processes that take place; it is usually considered to begin at an altitude of about 60 miles (100 kilometers) and to extend outward to a distant boundary that marks the beginning of interplanetary space.

McGraw-Hill Dictionary of Scientific & Technical Terms, 6E, Copyright © 2003 by The McGraw-Hill Companies, Inc.
magnetosphere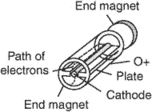 The upper part of the thermosphere where the earth's magnetic field plays a more important role in controlling the behavior of protons. Also called the
protosphere
An Illustrated Dictionary of Aviation Copyright © 2005 by The McGraw-Hill Companies, Inc. All rights reserved