manhole
Also found in:
Dictionary
,
Thesaurus
,
Medical
,
Legal
,
Acronyms
,
Wikipedia
.
manhole
1. a shaft with a removable cover that leads down to a sewer or drain
2. a hole, usually with a detachable cover, through which a man can enter a boiler, tank, etc.
Collins Discovery Encyclopedia, 1st edition © HarperCollins Publishers 2005
The following article is from The Great Soviet Encyclopedia (1979). It might be outdated or ideologically biased.
Manhole
a structure in a sewer network used for inspecting, cleaning, and flushing the sewers.
The manhole usually consists of a work area and, above it, an entrance area, a hatchway, and a lid. There are inspection manholes, drop shafts, and flushing shafts. Among the inspection manholes there are line shafts, built at straight sections of the sewer network; corner shafts, where the line changes direction; juncture shafts, where several lines come together; and control shafts, where the networks draining individual buildings or city blocks join the street network. Drop shafts are built where there is a substantial difference between the levels of the delivery pipes and drain pipes. Flushing shafts are used in flushing out the sediments that form in pipes carrying effluents with a slow rate of flow.
In cross section, manholes are either round or rectangular. They are built predominantly from prefabricated reinforced-concrete rings and panels. Sometimes they are brick.
The Great Soviet Encyclopedia, 3rd Edition (1970-1979). © 2010 The Gale Group, Inc. All rights reserved.
manhole
[

′man'hōl

]

(engineering)

An opening to provide access to a tank or boiler, to underground passages, or in a deck or bulkhead of a ship; usually covered with a cast iron or steel plate. Also known as access hole; manhead.

McGraw-Hill Dictionary of Scientific & Technical Terms, 6E, Copyright © 2003 by The McGraw-Hill Companies, Inc.
manhole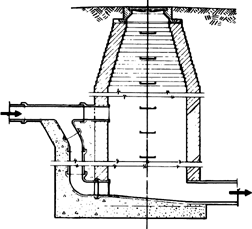 A covered opening in a street which provides access for cleaning and repairing of a sewer beneath, or for repairing a conduit for electric underground piping or electric cables.
McGraw-Hill Dictionary of Architecture and Construction. Copyright © 2003 by McGraw-Hill Companies, Inc.