mansard roof
Also found in:
Dictionary
,
Thesaurus
,
Wikipedia
.
mansard roof
(măn`särd)

, type of roof, so named because it was frequently used by the French architect François MansartMansart

or

Mansard, François
, 1598–1666, French architect. His work is noted as being an outstanding expression of French classical design.
.....

Click the link for more information.

. It was not devised by him but was used early in the 16th cent., as in portions of the palace of the Louvre designed by Pierre Lescot. It became particularly characteristic of French Renaissance architecture and later was much used in Victorian buildings in Europe and America. The slope of a mansard roof from eaves to ridge is broken into two portions. The lower portion is built with a steep pitch, sometimes almost vertical; the upper portion has a low pitch or is nearly flat. This results in a higher and more useful interior space than can be obtained with other roof types.
mansard roof
A roof with a steep lower slope and a flatter upper slope on all sides, either of convex or concave shape.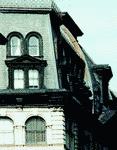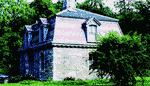 See also: Roof
mansard roof
[

′man'särd ′rüf

]

(architecture)

A roof with two slopes on all sides, the lower slope being steeper than the upper one.
mansard roof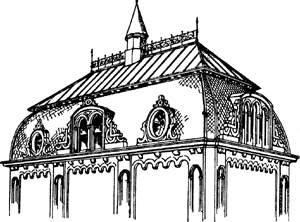 1. (US and Brit.) A roof having a double slope on all four sides, the lower slope being much steeper.
3.
A
hipped roof
usually having a double slope or compound curve on all four sides of the roof, the lower slope usually being much steeper than the upper slope; alternatively, the sides may have a concave-, convex-, or S-shape.
4. A sloping roof that projects from the wall of a building and has a double slope, the lower slope being steeper than the upper.